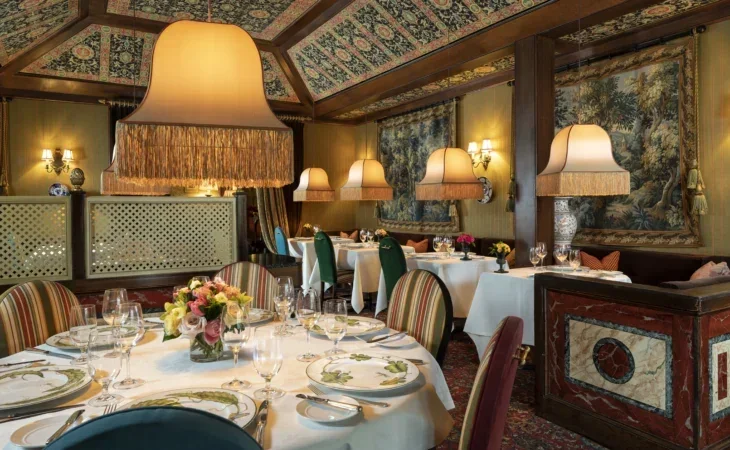 Although known for its half-smokes (a half-beef, half-pork smokey sausage), Washington DC's food scene has far more to offer than spiced meat. While succulent Mediterranean cuisine continues to embrace the smoky indulgences of the grill, the finest sushi is on offer inside Waldorf Astoria and novel ways of consumption are encouraged through Colombian cuisine to comprise the best restaurants in Washington DC.
Mirroring the diversity of the country as a whole, Washington plays a huge part in housing America's best restaurants. Containing 24 different Michelin star eateries in total, Washington's gastronomy scene is vast and thriving, with a clear touch of elegance.
Only one thing is essential during your trip to Washington, and that is selecting the best of the very best restaurants to dine at. While eating forms an essential part of human existence, it should also be essential to eat exceptionally – and each restaurant we recommend is not only for your satiety, but for the enrichment of your being.
[See also: The 15 Best Restaurants in New York]
The Inn at Little Washington
As the first and only restaurant in the Washington DC metropolitan area that has three Michelin stars and an additional green star, The Inn at Little Washington (pictured above) is unmissable. Although its façade seems typical of an American inn or private country house, the interior is far from ordinary. Richly carpeted and wallpapered with an intricate design that is illuminated by shimmery accents and lighting, the grandeur of the dining room is spectacularly romantic. For those hoping for an intimate front-row feast, two Kitchen Tables cushion in a baronial fireplace and can accommodate up to 12 guests. Alternatively, springy sofas and velvet chairs await you at white-clothed tables in the main dining room.
Starting the meal off with a glass of wine is never a bad idea when there are over 14,000 in the in-house cellar to choose from. Yet, just a glass is rarely enough, a dedicated sommelier is able to be of service for those who order three bottles or more, helping to guide and cultivate a prime tasting experience.
At the heart of this experience are of course the beautifully crafted dishes of chef Patrick O'Connell. Ranging from the highest-grade Hamachi Crudo atop golden beet "pasta" with a mélange of citrus and beet tartare, to a wonderfully wobbly vanilla panna cotta with strawberry consommé, the profundity of sweet, savoury and sour are poised to perfection.
Jônt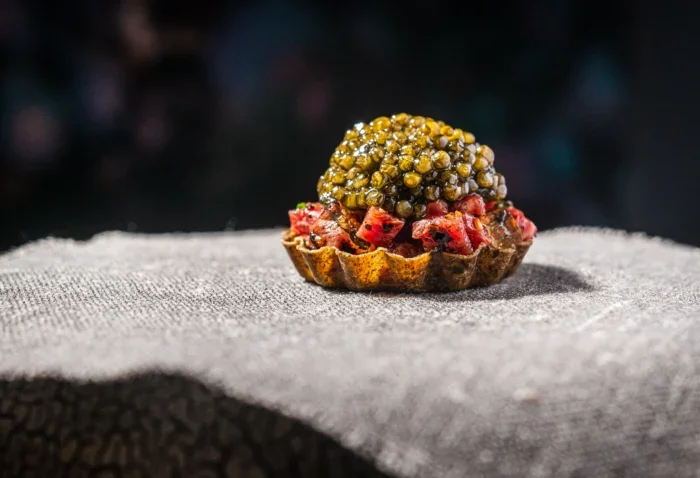 Playfully French-ifying the word "jaunt", Jônt restaurant pleasurably transports you to the fineries of Japanese cuisine without the hassle of long journeying. Despite opening at the peak of the pandemic, Ryan Ratino's gastronomical mastery was immediately recognised, earning the restaurant two Michelin stars.
As you enter through Jônt's sister restaurant Bresca, a dimly lit staircase guides you away from distracting colour and towards sleek minimalism. A 14-seat counter envelops the kitchen which, flawlessly clean, leaves the eye with nothing to fixate on but the spotted vibrancy that radiates from plates of culinary craft.
Though the tasting menu moves with seasonal availability, dishes such as the deep emerald and pale green of a courgette trio of canapés, rose-pink of dry-aged Rohan duck á la presse and opulent orange of the homard á la presse stripped with jade leek and apple slivers paint both your visual and tasting palette.
[See also: Michelin Reveals French Guide 2022]
Pineapple and Pearls
You did not come to a two Michelin star restaurant expecting to be served chips and dip but you are pleasantly surprised when a large wooden box unravels three smaller boxes of colourfully-loaded circles of chip in Russian-doll style. Aaron Silverman and the crafty team behind Rose's Luxury have provided creatively creamy plates of panna cotta, seabass glazed with grape slithers and a 150-layer lobster and octopus lasagne as part of an ostentatious tasting menu that continues to evolve innovatively.
Fuelling its festive atmosphere, an elaborate choice of drinks ease both the mood and mind. A sparkling glass of white wine opens the evening, paving way for an array of boozy and juicy cocktails. Located only moments from the Capitol Riverfront, Pineapple and Pearl is the place to party.
minibar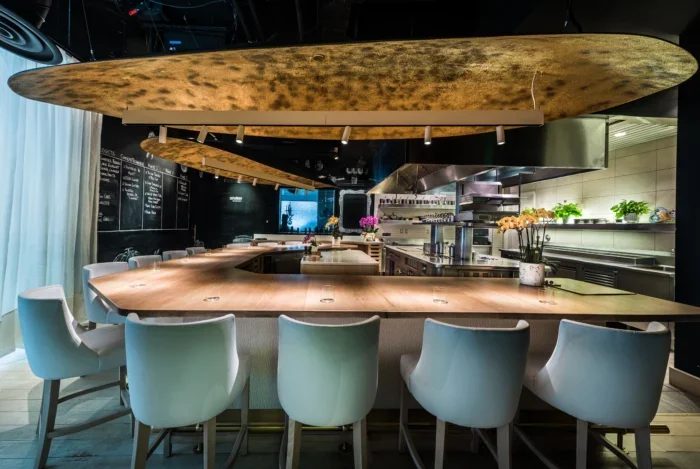 Neighbouring the National Portrait Gallery, minibar continues to uphold the area's artistry through showcasing José Andrés' culinary capabilities. The interior itself is inventive; a gold dome dangles from the ceiling above seated tables that encircle an open-kitchen and yellow lights set the room aglow. Although the rest of the restaurant space is equally lustrous, this seat, where diners are privy to Andrés' chef-d'oeuvre first-hand, is the most coveted in DC.
From almond cups with Spanish blue cheese to a coconut steam bun or feta ravioli with Turkish tomatoes, Andrés' inter-continental mingling grants this cuisine contemporary excellence that transcends boundaries of culture and taste. As suggested by its name, minibar also astounds diners with an alchemy brew of fruity and alcoholic mixtures that steam, bubble and bite with zesty sting.
Elcielo D.C.
Although it may seem counterintuitive to wash your hands in chocolate, whimsical experiences define the sensuality of this bold take on Colombian cuisine. Food is not designed simply for eating, but for living, as you feelingly consume food whose story is narrated by eloquent staff.
As well as these vocalized tales, the artistry of dishes speaks for itself. The Tree of Life, a loaf of fresh Yucca bread served on a wire bonsai tree representing the lung of the word – the Amazon rainforest– functions to this very end, profoundly resonating at a time of deforestation and climate change.
The menu comprising of 22 courses guides you through many such journeys. One is transported to the golden beaches of Cartagena and through the depths of the Amazon jungle using orality and physical immersion alone. The airily simplistic and vegetative interior of the restaurant further reflects the liberal naturalness that Colombia beholds.
[See also: Silversea Cruises Launches South American Grand Voyage]
Masseria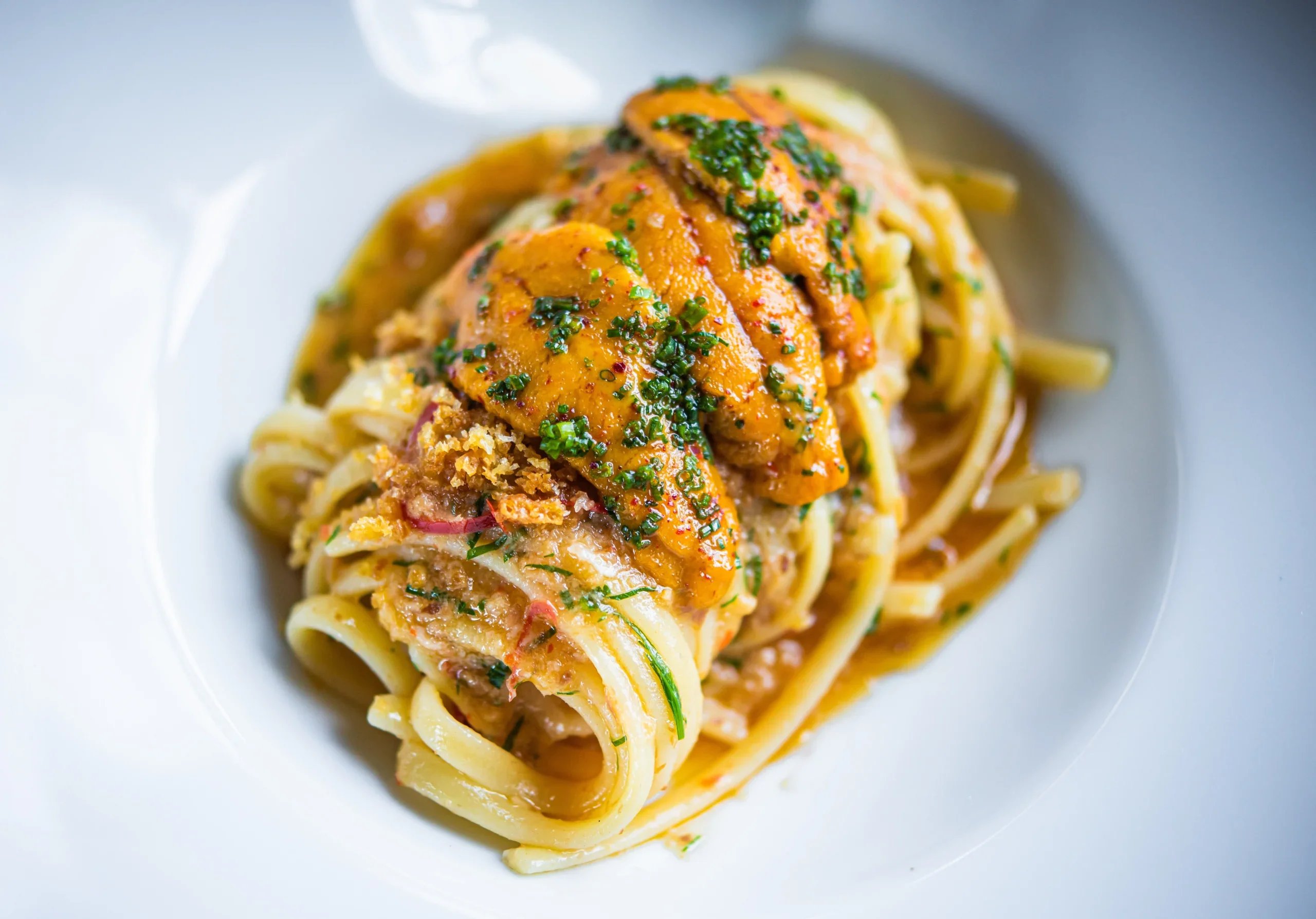 The finest of Italian cuisine is delivered by Nicholas Stefanelli at one of Washington DC's best restaurants, Masseria. Secretly enclosed behind a large wooden fence, entering the restaurant reveals a warm outdoor lounge with firepits and fairy lights that prelude magical dining. Inside the dining room, enchantment continues as bubbled chandeliers float from the ceiling and exposed, industrial walls are fancified by veined marble counters.
Comfort is at the forefront of the restaurant's ambiance as diners are invited to "vestiti per soddisfare gli altri, ma mangia per soddisfare te stesso": Dress to Satisfy Others, but Eat to Satisfy Yourself. Yet satiety is far from the only purpose of indulging in this finery. Plates are playfully presented in treasure chests and metal cans, adding an amusingly interactive element to your meal. For the meals that are plated traditionally, their colours prove unconventional, blending purples with browns and oranges with greens to create strikingly edible art. The swirled linguine with XO sauce, a popular diner's dish, is slurping lip-smacking, adding new depth to our conception of pasta.
[See also: Itaku: Italy Meets Japan at London's Latest Fusion Restaurant]
Maydān
As well as bringing you the best of Middle Eastern grills, Marcelle Afram brings together diners through his Tawle menu option and clay-oven-baked bread that stands at the centrepiece of every table at Maydān. Diners are encouraged to break bread together and immerse themselves in Middle Eastern culture through making bread their utensil. As you tactilely navigate your way through flavorful condiments, garlic, parsley, saffron and smoked paprika not only simmer on your your tongue but fill your nose with familiarly mingled aromas to create a sense of home-cooked comfort.
Complimenting this smoky savoring experience are the rich browns of exposed red brick, hardwood floors and mahogany tables whose glass covers refract light from the open fire. Fresh from the fire, classic dishes are given a spicy twist to showcase the prowess of Afram's capabilities. Chicken shish taouk is sweetened by piquant pomegranate molasses, halloumi seasoned with nutty dukkah and enhanced by wildflower honey, and a selection of hearty hearth-roasted vegetables are both succulent and savory.
Sushi Nakazawa
Located inside the Waldorf Astoria, Sushi Nakazawa hybrids the Tokyo-style sushi counter with the modernism of American interior design. The monochrome kitchen counter whose space is colored only by planked, dark-wood walls creates a refined dining atmosphere reflective of their high-grade Omakase offering.
A 20-course tasting menu thoroughly explores all that seafood has to offer. Diners are presented with premium bluefin tuna, an array of salmon, Vancouver spot prawn dotted with pearls of lime and golden-eye snapper made crisp with a chef's torch and delicately seasoned with lemon and sea salt. It is definitely worth the $30 extra to dine the Sushi Counter and watch Daisuke Nakazawa craft these artful pieces of nigiri.
Xiquet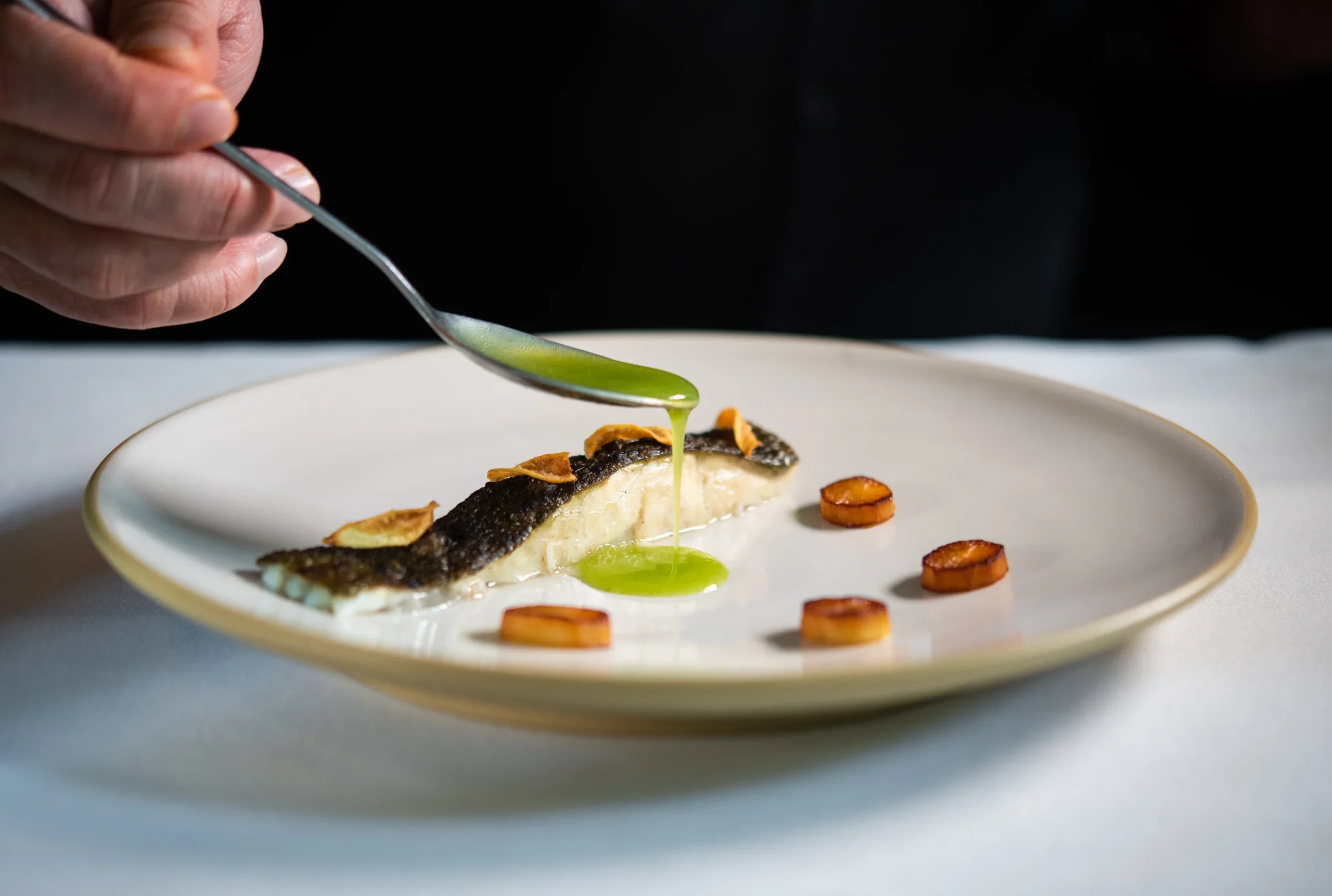 Serving Spanish cuisine with heartfelt, Mediterranean hospitality, Xiquet caters to both appetite and comfort at the opening of Washington's Observatory Circle. Diners are able to experience a seat at the Chef's Counter where they sample canapés and aperitifs, peruse the evening's tasting menu and prepare to ascend to the top floor dining room.
Seeping with sunlight during the day and warmly sky-lit in the evening, the dining room's wooden floors and white-clothed tables invite pristine dining, whilst the simplicity of décor directs your gaze to the glass-enclosed kitchen.
The anticipation built-up in watch of Xiquet's world-class culinary team climaxes at taste. Espàrrecs blancs served with Kaviar Kristal caviar and drizzled in smooth walnut sauce, Australian wagyu strip loin with meaty porcini and a zingy Meyer lemon tart with earthy lemon sage sorbet are a few top picks from an elaborate tasting menu.
[See also: A Guide to All Three-Michelin-Star Restaurants in Spain]
Imperfecto: The Chef's Table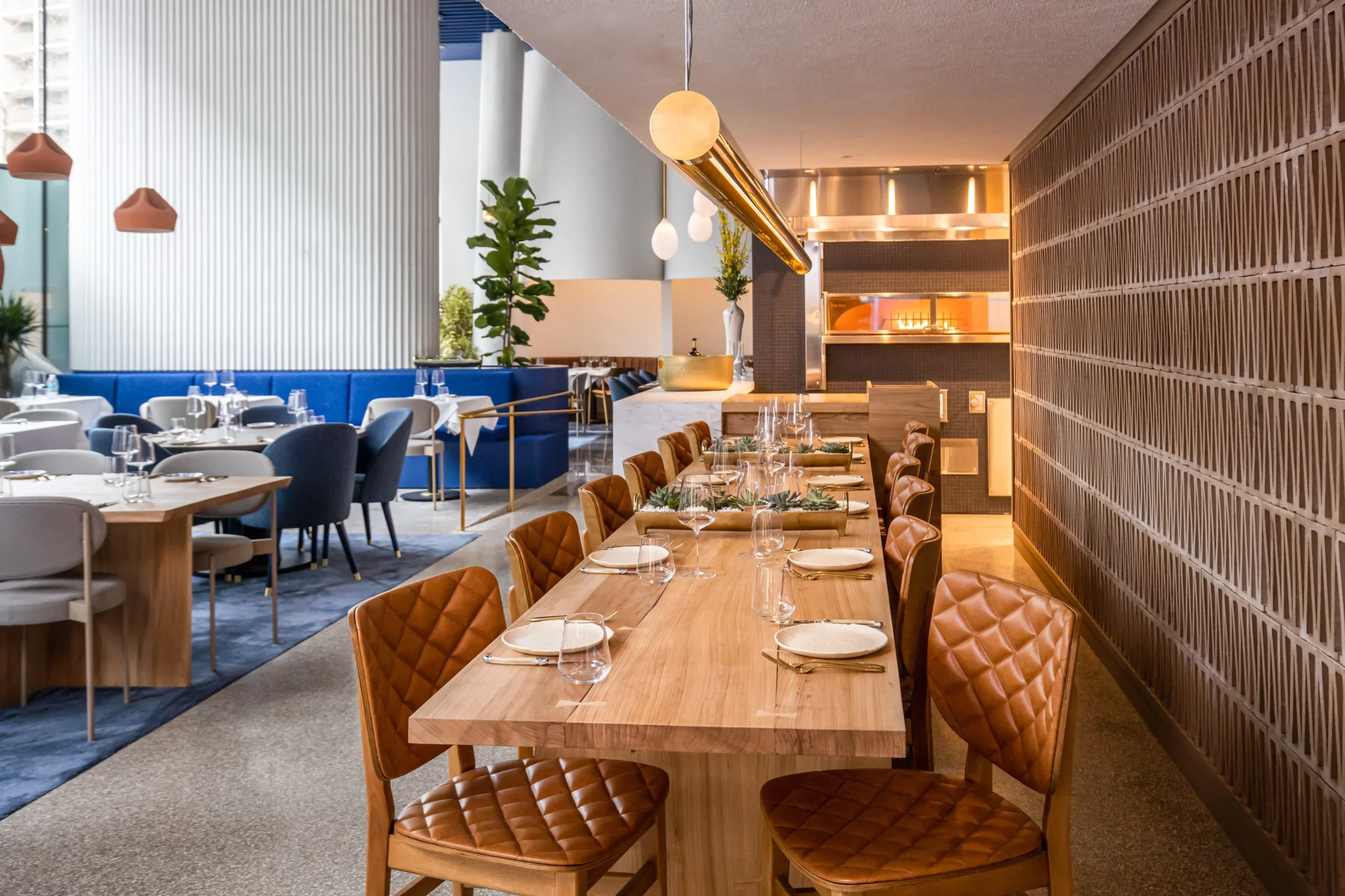 Located at the heart of West End, Imperfecto invites you to leave the paths more trodden and step into naturally-lit, minimalistic modern furnishing for a reversion to calm that juxtaposes the busy streets of Washington. Low ceiling lights and intimately long dining tables further invite conversation and enjoyment.
Like the lover who believes their partner's imperfections make them perfect, you will be besotted by Enrique Limardo's unapologetic platters of Imperfecto. Smoked eggplant, ground lamb, pine nuts and goat-manchego cheese cream pack a phyllo dough to construct a Moussaka Cigar; cardamom explodes with fruity sumac in a fluffy falafel and the finest salmon tartare is imbued with Latin toum and trout caviar to present dishes of improbable equilibrium.
Tail Up Goat
Based in the historic Adams Morgan enclave of Washington DC, it is a beautiful and worthwhile commute to dine at Tale Up Goat. The wood-furnished restaurant, run by husband and wife duo Jill and Jon and their friend Bill, radiates the feeling of togetherness and friendship that establishes this restaurant as one of the best in Washington DC. Intimate tables are circled by four chairs and cushioned booths line the walls whose nautical lighting compliments the emerald blues of sea-horizon wallpaper.
With an entire course devoted to bread, the simple heartiness of this dining experience is pleasingly evident. From breakfast favorites with a fishy twist, like seaweed sourdough with pickled fennel, to sophisticated dandelion greens with Sicilian almond brittle and anchovy, this restaurant nourishes both stomach and soul. A customer favorite is the goat lasagne, so flavorful and intricately layered that your tail would be up and wagging with glee.
[See also: The Most Iconic Restaurants of the Elite Traveler Era]