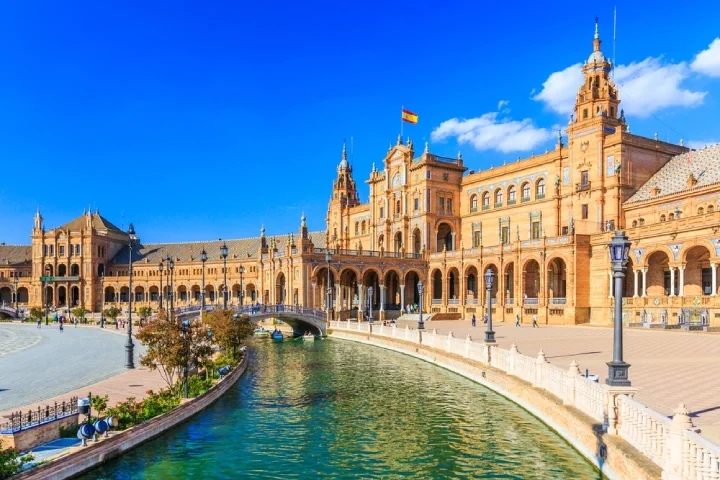 There aren't many locations more beautiful than Spain, especially for destination weddings. Spain offers to its visitors contrast in architecture, landscape and traditions, alongside a variety of breathtaking locations to exchange vows, from sun-drenched seaside resorts and picturesque vineyards to dreamy castles and haciendas.
Many brides and grooms are deciding to organise their weddings in Spain, pushing the country to make a comeback as one of Europe's wedding capitals.
Elite Traveler has grouped together various of the most stunning wedding venues in Spain.
Bellesguard Gaudi, Barcelona 
Not so far from the bustle of Parc Guell lays another of Antoni Gaudi's masterpieces: Bellesguard Tower in Barcelona. Inspired by the medieval castle of the Catalan King that once stood on the site, Bellesguard Tower is true to Gaudi's unmistakable style.
Half gothic, half art-nouveau, the cultural heritage site was built between 1900 and 1909 and stands proudly on a hilltop overlooking the city. A myriad of spaces enveloped by serene gardens makes this an easy contender for the most beautiful wedding destination in Spain.
The property is surrounded by stone walls, with a single access door guarded at all times, guaranteeing complete privacy and no snap-happy tourists accidentally stumbling across your celebrations. 
[See also: Must-See Royal Sites in Spain]
Abadía Retuerta LeDomaine, Valladolid
Just two hours drive from Madrid is the majestic Abadía Retuerta LeDomaine hotel. Set within a meticulously restored 12th-century Romanesque abbey, the hotel's vast estate covers 1,730 acres with 500 acres of vineyards;  the perfect setting to say "I do". 
Canapés and dinner will be a gastronomical delight thanks to the award-winning winery and a Michelin-starred restaurant (which also boasts a Green Michelin Star for its dedication to sustainability) that sit at the heart of the resort. Expect impeccable service and a spa that you and your guests won't want to tear yourselves away from. 
Mandarin Oriental Ritz, Madrid 
Those planning a city wedding in the capital should look no further than Madrid's Mandarin Oriental Ritz. Having recently undergone an extensive renovation, the century-old hotel still retains the same old-word charm and belle-époque styling it possessed when it threw open its doors to the city's elite in 1910.
Situated in one of Madrid's most prestigious locations within the 'Golden Triangle of Art', the hotel's banqueting hall overlooking the iconic Prado Museum is a regal location for receptions.
The two-bedroom Royal Suite is an exceptional bridal suite and its circular master bedroom serves as the perfect backdrop for that all-important pre-wedding photoshoot.
Finca Cortesin, Casares 
Elevated above the Mediterranean, Finca Cortesin strikes the perfect harmony between Andalusian tradition and contemporary luxury. 
Spanning 530 acres, the estate is dotted with fragrant gardens, palm-laden terraces, and twinkling fountains and also features a world-class golf course and a selection of delectable restaurants. All of this makes it one of the country's most coveted resorts as well as one of Spain's most beautiful wedding destinations, attracting brides and grooms from across the globe.
For weddings, the Andalusian resort offers exclusive use, giving the wedding party free reign over all 67 suites, swimming pools and gardens. 
[See also: The Best Luxury Wedding Venues in the US]
Anantara Villa Padierna Palace, Marbella
Palatial luxury awaits brides and grooms who tie the knot at the beautiful Andalusian resort of Anantara Villa Padierna Palace. 
However you imagined your big day, the possibilities seem near endless; exchange vows in the resort's Roman amphitheater or host an intimate ceremony within the chapel. Couples can opt for beachside nuptials at the resort's private beach club or for an altogether grand affair,  500 of your nearest and dearest can join in the celebrations within the surrounds of the enchanting  Linares terrace and ballroom. 
The resort's accommodation is equally as impressive with a range of stunning villas for guests to choose from, including the palatial Obama Villa named in honour of one of its most famous guests, the former First Lady, Michelle Obama.
Hotel Alfonso XIII, Seville 
The Hotel Alfonso XIII has long attracted artists, Hollywood greats and heads of state. The palatial hotel was commissioned by the King of Spain to play host to international dignitaries during the 1929 Ibero-American Exhibition and remains an iconic cultural landmark thanks to its exemplary Moorish architecture.
Fit for royalty, the hotel hosted Princess Isabel Alfonsa and Count Juan Zamoyski's wedding banquet in 1928 and since then the opulent hideaway has garnered a reputation for being one of the most beautiful wedding destinations in the whole of Spain. And it is no surprise why; with nine suitably grand venues and array of Alcazar-inspired suites, it serves as a truly unique setting in the heart of Seville. 
Son Morraig, Mallorca
Mallorca has always been a dream wedding destination for many but Son Morraig might just win the prize for the island's prettiest venue. 
Towering over the island's west coast, the 15th-century monastery and country estate was transformed into a palatial residence in the 19th century when it was bought by an Austrian Duke. The Duke created a Mediterranean garden and built a white marble pavilion on the cliffs above the sea. It is in the shadow of this columned temple that countless couples have tied the knot overlooking the sparkling Mediterranean waters. 
Receptions can be held on the property's spectacular outdoor terrace; a truly blank canvas enabling couples to create a celebration as unique as they are. 
La Residencia, A Belmond Hotel, Mallorca
Enveloped within Mallorca's Tramuntana mountains, the exclusive La Residencia hotel is one of the most picture-perfect wedding destinations in the whole of Spain. 
With gardens surrounded by olive and citrus groves and near year-round sunshine, most couples opt to tie the knot outdoors, but the tranquil terracotta-hued retreat offers plenty of appealing indoor options as well. 
A bespoke wedding menu made up of sumptuous local fare can be enjoyed under the stars and when the night comes to a close, wedding guests can choose from an array of antique-laden suites featuring marble bathrooms, sweeping terraces and private pools. 
In association with spain.info
[See also: A Guide to All Three-Michelin-Star Restaurants in Spain]