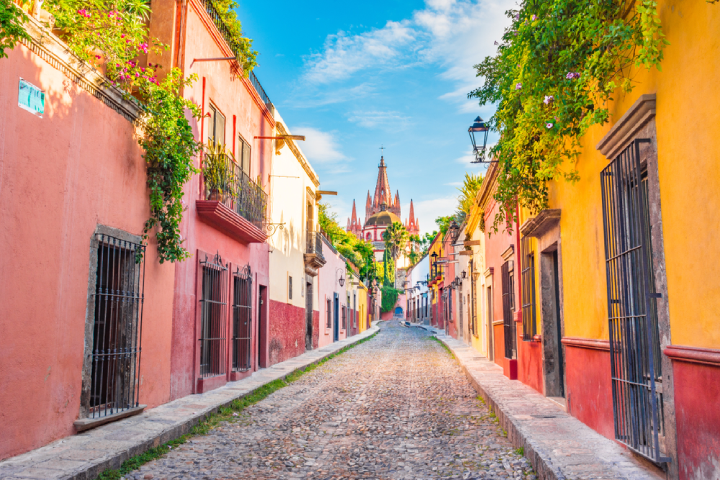 The grandest haciendas serve as a haven for affluent tourists visiting Mexico, with luxurious accommodations housed in stately colonial mansions.
These historical retreats, which range from a restored monastery in the Yucatan to a house from the 1930s in Jalisco, promise exquisite spas, fine dining, and contemporary comforts with a dash of Mexican heritage.
[See also: Explore the Best of Mexico with Elite Traveler] 
Yucatan
Hacienda Xcanatun
Reopened in 2000 after a five-year renovation, Hacienda Xcanatun now provides guests with blissful accommodations in an 18th-century mansion.
The hacienda's 18 suites are all exquisite, but a stay in one of the five master suites is not to be missed. Each features a separate living space, king-sized bed, private verandas and two hand-carved coral stone tubs with waterfalls. The hacienda also has a spa, restaurant and pool.
[See also:Top Suites in the World –Royal Villa, Chablé Yucatán]
Hacienda Misné
Built in the 18th century, Hacienda Misné is a flawlessly restored property surrounded by tropical gardens. With a spa, pool and an outdoor space scattered with hammocks, Hacienda Misne promises guests relaxation. There are 42 rooms and eight suites, each with garden views, high ceilings and classic Mayan design and décor. Each suite has air-conditioning, cable TV and a spa shower.
Hacienda San Jose
Hacienda San Jose offers standard Starwood luxury service in a tranquil hacienda setting. Hammocks strung over an outdoor pool are the perfect place for an afternoon nap, while the hotel's restaurant offers Mexican cuisine overlooking the gardens. Accommodations range from standard rooms to Mayan Villas, featuring 18-foot ceilings, a king-sized bed, private terrace, and in one case, even an in-room private pool.
Hacienda Santa Cruz
Housed in a 17th-century Franciscan monastery, Hacienda Santa Cruz underwent over a year of renovations before reopening as a luxury hacienda in 2007. Hacienda Santa Cruz now strikes the perfect balance by maintaining the integrity of its historical architecture while updating its services and interiors. The hacienda has a spa, restaurant and ten rooms including master suites and one casita.
Hacienda Temozon
Temozon Sur offers traditional Mexican hacienda architecture decorated in bright reds and yellows. With a lighted outdoor tennis court, spa, bicycle rental, outdoor pool and bar, Temozon Sur has activities aplenty. There are a total of 28 guest rooms and suites, but be sure to book the owner's former bedroom, now the Presidential Suite, with its separate sitting area, private pool and in-room hammock.
Hacienda Sacnicte
A 17th-century mansion, Hacienda Sacnicte is tucked away, hidden from the hustle and bustle of the city, offering its guests peace and seclusion. The ten suites are made up of master suites, elite suites and junior suites, each built with Mayan stone and featuring spacious rooms, king-sized beds and luxurious stone bathrooms. Enjoy an Arabic pool and restaurant, as well as a boutique housed in an adjacent 18th-century chapel.
Morelos
Fiesta Americana Hacienda San Antonio El Puente Cuernavaca
With 88 rooms, Hotel Hacienda San Antonio El Puente is one of the largest restored haciendas.
Beautifully renovated with modern comforts, the property maintains the wonder of traditional mansion architecture while offering elite travelers luxury accommodations and services. The expansive master suite offers visitors the best of the best with a king-sized bed, private Jacuzzi, LCD TV and DVD player. A restaurant, lounge, pool, Jacuzzi, library and spa round out the offerings
Hacienda San Gabriel de Las Palmas
Built on an expansive property with stunning interior architecture, Hacienda San Gabriel de Las Palmas is a must-stay for visitors traveling in Morelos. The hacienda has two swimming pools, a tennis court, opportunities for horseback riding, rafting and sky diving, and 20 rooms at different levels, from standard rooms to presidential suites. The three presidential suites all offer a luxe stay, but the Villa Don Jorge, with its king-sized bed, private swimming pool and garden, and in-room Jacuzzi, can't be beat.
Hotel & Spa Hacienda de Cortes
Decorated with AAA's Four Diamond Award, Hacienda de Cortes has a rich history of over 480 years and the architecture to prove it. A stay at this delightful hotel is best enjoyed in the master suite. With expansive space, including a separate living room and dining room and a king-sized bed, all nestled beneath high arched ceilings and open walls, the master suite offers the ultimate in relaxation. The hacienda also boasts a restaurant, wine cellar and spa.
[See also: Four beautiful wine estates from around the world]
Guanajuato
Casa de Sierra Nevada
Run by Belmond, Casa de Sierra Nevada is surrounded by gardens and courtyards, offering a secluded sanctuary in the center of the city.
Casa de Sierra Nevada is made up of a main building and four colonial mansions, boasting 15 deluxe and executive rooms. These top-of-the-line accommodations have quarry-stone fireplaces, a kingsized bed, butler service and a Talavera-tiled bathroom. Additionally, the hacienda offers a restaurant, spa and even its own cooking school teaching the art of gourmet Mexican cuisine.
Antigua Villa Santa Monica
Originally opened in 1940, Antigua Villa Santa Monica offers the luxury boutique hotel experience in one of the most architecturally impressive haciendas in the area.
Fourteen private suites each boast a four-poster king-sized bed, tile floors, separate living space and a stone fireplace. Guests enjoy an open-air restaurant serving Mexican cuisine, a pool and meeting and event space.
Jalisco
Hotel Villa Ganz
Heralded as the first luxury boutique hotel in Guadalajara, Hotel Villa Ganz exhibits modern luxury in a historic 1930s mansion.
Located in Guadalajara's Pink Zone, the hotel is in a neighborhood abuzz with restaurants, museums, art galleries and ample opportunities for shopping. Inside the two-story hacienda, there are ten suites, each named after characters created by Juan Rulfo and offering amenities such as king-sized beds, floor-to-ceiling windows and in-room hammocks for afternoon lie-downs.
Hacienda Sepulveda Hotel & Spa
One of the more modernized haciendas, Hacienda Sepulveda Spa boasts a pool, bar, restaurant, outdoor Jacuzzi and, best of all, a full-service spa.
The hacienda has 23 rooms, including eleven wide master suites and one grand master suite that features two beds, traditional décor and sprawling views of the property. Spend time at the spa, indulging in massages, facials, body wraps and even a de-stressing red wine therapy treatment for a full wellness retreat.
Hacienda El Carmen Hotel & Spa
Those looking for a breadth of activities during their hacienda stay should check into Hacienda El Carmen Hotel & Spa. This beautifully restored traditional colonial mansion provides guests with opportunities for horseback riding, golf, trips to explore nearby ruins and a chance to unwind at the in-house spa.
For the business traveler, there are even four separate conference rooms that each hold between 25 and 180 people. The hacienda has a total of 21 suites including two grand master suites and one presidential suite. A stay in the presidential suite offers the ultimate luxury with an in-room pool opposite the king-size.