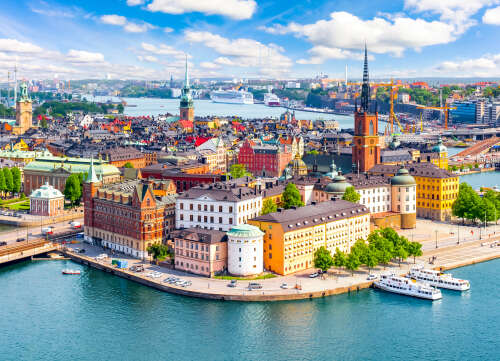 The best restaurants in Stockholm use fresh, in-season ingredients and provide an astounding variety of both traditional and contemporary cuisine.
Seafood is a distinct delicacy in Stockholm, where the fruits of the Baltic Sea are hard to overlook. Fresh foods have long been a staple of Swedish cuisine. The best restaurants in Stockholm may be found here, from pioneers in plant-based cuisine and zero-waste champions to traditional French bistros and fine-dining icons.
[See also: The Most Iconic Restaurants of the Elite Traveler Era]
Ekstedt
With no traditional ovens or gas cookers in sight, one-Michelin-starred Ekstedt is one of Stockholm's most exciting restaurants and was arguably the restaurant responsible for the open-fire cooking trend that has swept Europe over the last few years. Focusing on blending well-known Swedish flavors and ingredients with traditional and modern European cooking techniques, Niklas Ekstedt's team works tirelessly to offer one of the capital's most innovative menus.
When you walk into the restaurant the first thing you will notice is the sheer heat of the place, with the restaurant's back wall housing the kitchen and the various open fires all the food is cooked over. The interior is traditionally Scandinavian with exposed metal grids covering the ceiling, finished off with wood paneling and furniture throughout.
While you would expect a lot of heavy red meat dishes from a place known for its 'outdoors' style of cooking, the food on offer at Ekstedt is well balanced and varied enough to keep even the pickiest of eaters pleased, with the menu weaving its way through a series of delicious flavors, pairing ingredients in the most unusual of ways.
As with any restaurant of this caliber, the wine list is both extensive and varied, with the in-house sommeliers offering guests plenty of suggestions to pair with their meal. Alternatively, you can opt for a wine flight to match your meal. All in all, if you're looking for something a bit unusual, you'll be hard pushed to find anything better in Stockholm than Ekstedt.
Wedholms Fisk
Wedholms Fisk, founded by legendary restaurateur Bengt Wedholm, is one of the few restaurants in Stockholm entirely devoted to seafood. The dishes — a combination of Swedish culinary traditions with new influences and techniques — include such delicacies as local oysters, butter-fried scallops, whole poached sole with trout roe and lobster soup.
Guests have the choice between a multitude of menus, including the ever-changing weekly lunch menu, à la carte and Wedholm's Tasting Menu. There's also plenty of options as to where to enjoy the food, with multiple private dining rooms available in addition to the main dining space. Choose between The Gallery which, as the name suggests, has a rotation of artworks on display; Karl Nordström's Dining Room, where a private entrance can be arranged for ultimate discretion; and the Bærtling Salon, featuring artwork by the famous Swedish artist of the same name.
Be it a business lunch, family event or just a catch up with friends, Welholms Fisk is the perfect restaurant to enjoy some of the finest seafood that Sweden has to offer, while also absorbing the endless activity of Sweden's nearby Nybroviken harbor.
Restaurant Frantzén
Hidden behind a somewhat unassuming facade, Frantzén is one of the best restaurants in Stockholm and one of the most innovative kitchens in all of Scandinavia. A meal at the three-Michelin-starred restaurant is more than just dinner: this is a completely immersive experience, with some 10 courses served to a highly limited amount of guests on each serving. Guided by a philosophy of 'casual elegance', Frantzén's food is an artful blend between Nordic and Japanese cuisines, with a focus on local, seasonal ingredients. Highlights including langoustine with crispy rice and ginger, and strawberries and cream with salt and pepper meringue.
Chef-come-owner Bjorn Frantzén moved the entire restaurant to new premises in early 2017, taking it from the city's old town to a more central location in Stockholm's downtown. While restaurant moves can be risky, Frantzén's decision was clearly the right one as the restaurant was awarded its third Michelin star just a year later. Found inside a Stockholm townhouse, the new venue is five times the size of the old restaurant, spanning three floors which guests are guided through during the course of their meal.
The decor is dark, atmospheric and decidedly stylish, with low-level lighting on the wooden countertops acting as spotlights for each dish – and rightly so, as each dish that leaves the Frantzén kitchen is a work of art.
Operakällaren
Dating back to 1787 and found within the historic Opera House, Operakällaren is something of an institution. With its gilded oak paneling, sparkling chandeliers and impressive geometrical wood-paneled ceiling, the main dining room is a classic destination for fine cuisine and impeccable service. Serving international haute cuisine by Stefano Catenacci, it has been awarded a Michelin star and is a member of the prestigious Les Grandes Tables du Monde/Traditions & Qualité association.
On the menu is a carefully curated selection of traditional French dishes with a contemporary twist, available either à la carte or as part of a tasting menu. The wine is an event in itself, with Operakällaren's wine cellar, which holds some 2,100 variations, being among the largest in Sweden.
Operakällaren's private dining room, a completely modern affair in white and electric blue, is also worth a visit, if only for its stark contrast with the traditional main dining room. Rent it out for a trendy dinner party with views over the water; with a minimum seating of two and space for 50, the occasion can be as intimate as you please.
[See also: How to Experience Michelin Level Dining at Home]
Brasserie Le Rouge
Three things characterize the food at Le Rouge: personality, tradition and warmth. The comforting flavors of French cuisine, as well as Italian simplicity, feature prominently on the menu, with dishes including garlic-baked snails, white asparagus with trout roe and hollandaise and fried sweetbread with comté cheese all available.
The food is served in a dinner club-esque setting, making a visit to Le Rouge feel like a visit to a dinner party at your most stylish friend's house. The experience extends further than just food however, with the restaurant regularly hosting DJs and top-class entertainment to add another level of excitement.
Design-wise, Le Rouge is reminiscent of turn-of-the-century bohemian France; the deep color palette, plush textiles and period detail pay tribute to places such as the infamous Moulin Rouge. Private rooms are available, and a great option for a long, celebratory meal in a sumptuous setting.
[See also: Michelin Star Cookbooks from the World's Best Restaurants]
Fotografiska
Sitting on the top floor of the revered photography museum, the Fotografiska restaurant offers some of the most impressive views of Stockholm – as well as some of the city's finest food. Sustainability takes center stage here, as is commonplace among the best restaurants in Stockholm, with a zero waste policy in place.
Led by head chef Paul Svensson, Fotografiska offers a primarily plant-based menu, with some dishes occasionally supplemented with the finest Swedish seafood and meat. As you would expect, every menu is based on seasonal availability in order to minimize environmental impact. The restaurant's commitment to sustainability saw it awarded a coveted Green Michelin star in 2020 in recognition of its efforts.
The restaurant will offer multiple set menus at any given time, each of which has been carefully imagined to include a range of complementary dishes, with wine pairings also available. The menus can either be enjoyed in the main dining room in the Chambre Séparée – an exclusive private dining space with views across Stockholm's inlet.
Prinsen
With a history that dates back over 100 years, Prinsen is an established fine-dining restaurant in Stockholm and has been a firm favorite of the city's elite since its foundation.  Despite its illustrious reputation, Prinsen is unpretentious and instead strives to welcome everyone through its doors to celebrate and enjoy excellent food with loved ones.
With its wood-paneled walls, antique-style floor tiling and brass accents, Prinsen resembles a brasserie in the great French tradition. And in classic European style, when the weather permits, diners spill out onto the streets to enjoy an alfresco meal. For a more exclusive affair, make use of Prinsen's private dining room, which doubles up as its wine cellar and offers space for up to 16 guests.
The menu is rooted in Swedish culinary tradition but happily takes influence from around the world, as well as drawing on more modern techniques. Highlights include the signature shrimp salad, truffle risotto and white chocolate mousse with hazelnuts and roasted white chocolates – all of which should be accompanied by a paired glass of wine, as recommended by one of Prinsen's expert sommeliers.
[See also: London's Most Indulgent Fine Dining Restaurants]
Mathias Dahlgren – Matbaren
Found in Stockholm's ultra-luxe Grand Hôtel, Mathias Dahlgren's Matbaren is a modern bistro restaurant with an open kitchen that offers a welcoming and relaxed atmosphere. Neighboring Matbaren is another of Dahlgren's restaurants, Rutabaga, which offers exclusively vegetarian dishes, with a focus on standout ingredient each month,
Dahlgreen's cuisine focuses on Swedish produce prepared with international influence. The menu changes regularly based on seasonal availability, but will always showcase a curated selection of regional ingredients, such as white asparagus from Hjo or Bohuslän langoustines. A set menu of Matbaren classics is also available, with an accompanying wine menu.
The restaurant is decidedly informal, with both table and countertop seating available. However, for the most exclusive Matbaren experience, book the private dining space which is found in the inner chambers of the Grand Hôtel's wine cellar. We can't imagine a more fitting place to enjoy fine cuisine and, of course, excellent European wines.
Nour
"The master invites you back to his unique universe", the restaurant's website welcomes users with these words.
The one-Michelin-starred establishment, which exudes an unpretentious and intimate atmosphere, is located above a bustling restaurant and bar in a townhouse in Stockholm. Two tasting menus are available at Nour, one with five courses and the other with eight. Chef Sayan Isaksson draws inspiration from both Swedish and Japanese culinary traditions, fusing them together in a nuanced and exquisite symphony of flavors.
Due to the size of the menu, Nour is unable to offer vegan food or food without lactose, milk protein, or eggs. However, vegetarian and pescatarian options are available.
Etoile
With an emphasis on Asian and African tastes, two friends opened Etoile after touring the globe to share their experiences via food.
Following modest set meals that are often eaten with the fingers, there is a menu of creative, entertaining, and flavorful dishes. The whole team participates in the preparation, cooking, and serving of the food and wine; there is no specific chef.
Etoile was awarded a Michelin Star as well as a Michelin Green Star for its commitment to environmental protection:: "As a small restaurant, we are looking to be a part of a bigger picture. We challenge our producers and suppliers to be a part of it too, by demanding that their deliveries are smart and sustainable. Together we can make a difference."
Aloë
Aloë is a two-Michelin-starred restaurant founded on feelings, contrasts, customs, and uniqueness. The restaurant's two chefs and owners, Daniel and Niclas, decided to totally renovate it when it earned its first Michelin star in 2018.
"Including, contemporary, romantic gastronomy" is the restaurant's motto. The modern aspect is seen not only in the inventive cuisine but also in the experience itself. There are no separate tables, for example, but rather large tables where people may sit together to provide a warm and communal atmosphere.
Before you take a seat at a table or a counter that looks out into the open kitchen, Aloë offers appetizers in the lounge. Globally influenced food delights the senses with its complex flavors and one-of-a-kind menu combinations.
See here for Elite Traveler's comprehensive list of the world's finest restaurants