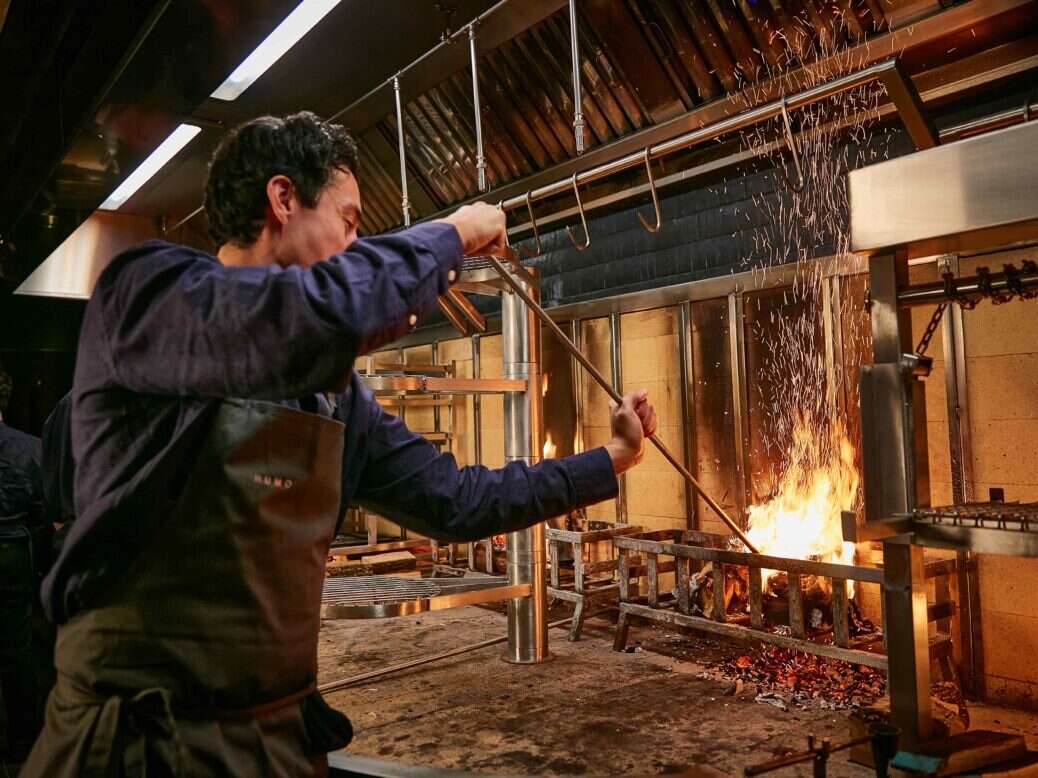 It's believed that people started cooking with fire around two million years ago. It's likely at that time "cooking with fire" consisted of throwing a hunk of meat into the flames, and waiting a bit. These people wouldn't have much in common with you or I — Homo sapiens are thought to have evolved around 300,000 years ago — but, one thing we would definitely agree on is that food is better when it's cooked, especially over a fire. HUMO is a restaurant that brings this innate love — the joy of the dancing flame that jumps and flashes, while fat drips down further fueling it — to St George Street, London.
Conjured from the brain of Columbian-born executive chef Miller Prada, HUMO roughly translates as smoke in Spanish, with fire, smoke, and the unique flavor it imparts representing the crux of this establishment.
Found on the somewhat hallowed ground of where Anthony Demetre's Wild Honey once stood — it's now resituated at the Sofitel St James — HUMO opened in January 2023, quickly attracting plaudits and adulation from the London dining scene.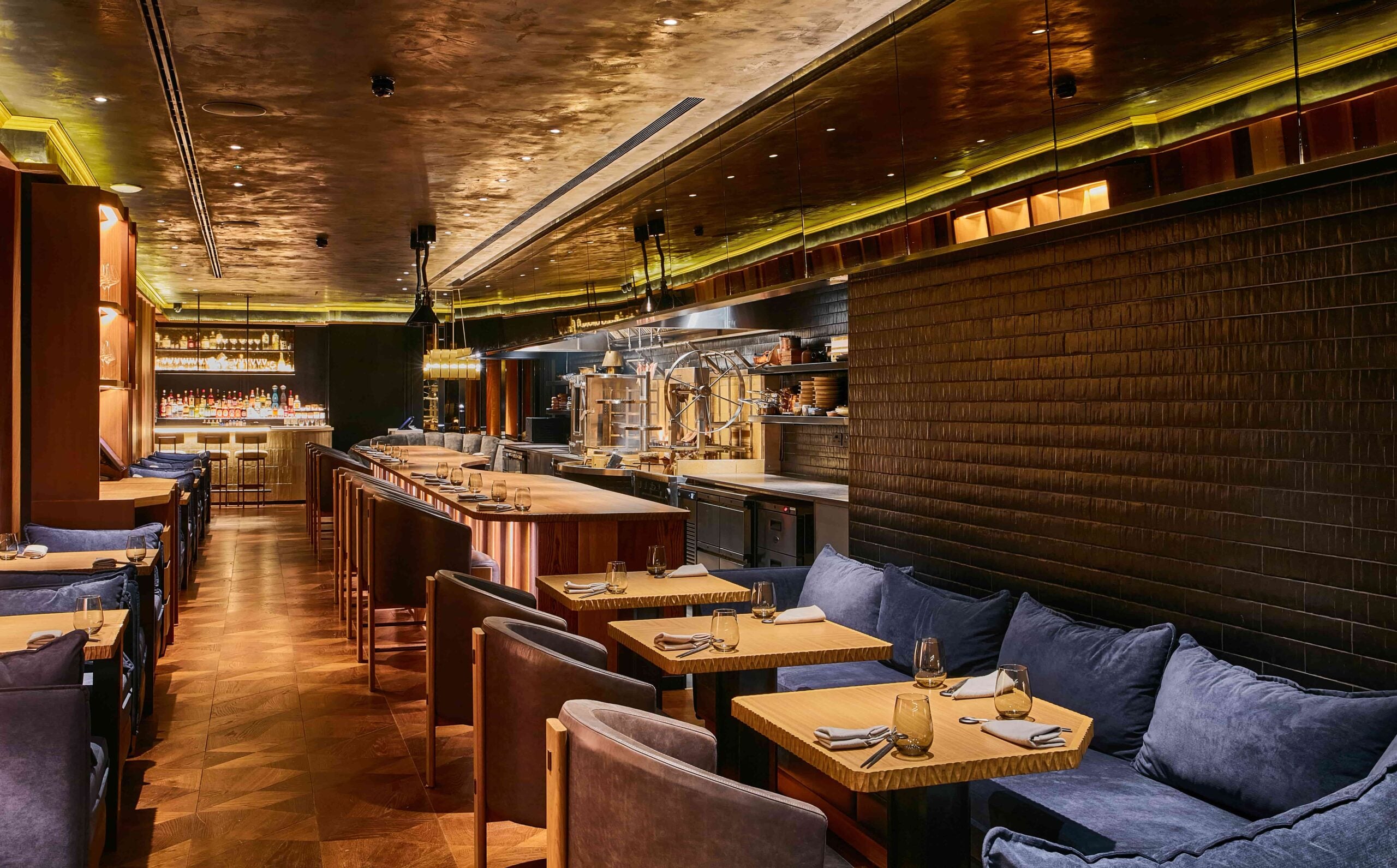 HUMO brings all the bells and whistles to the party that one can expect from a flash new Mayfair restaurant. Inside it's dark, atmospheric and industrial, like a wood-fired factory of gastronomy. The dining room is dominated in the best possible way by the commanding four-meter-long grill that acts as the foundation of everything this kitchen produces. The kitchen is long and narrow consisting of a single gally that stretches a considerable way down the restaurant. It means even if you're not sat at a bar table you're not far from the action.
And there's action abound. Chefs work quietly, tending their stations; flames leap up for attention, licking the ceiling-mounted extractor fans and barely garner a second glance from their handlers. Cuts of meat spit and sizzle away, while elsewhere micro herbs are delicately placed with tweezers, finishing dishes with a level of refinement that seems otherworldly when compared to the carnage of the grill. HUMO is highly efficient, organized chaos that drips with drama.
[See also: Grace & Savour: Progressive Fine Dining in an Unlikely Location]
Chef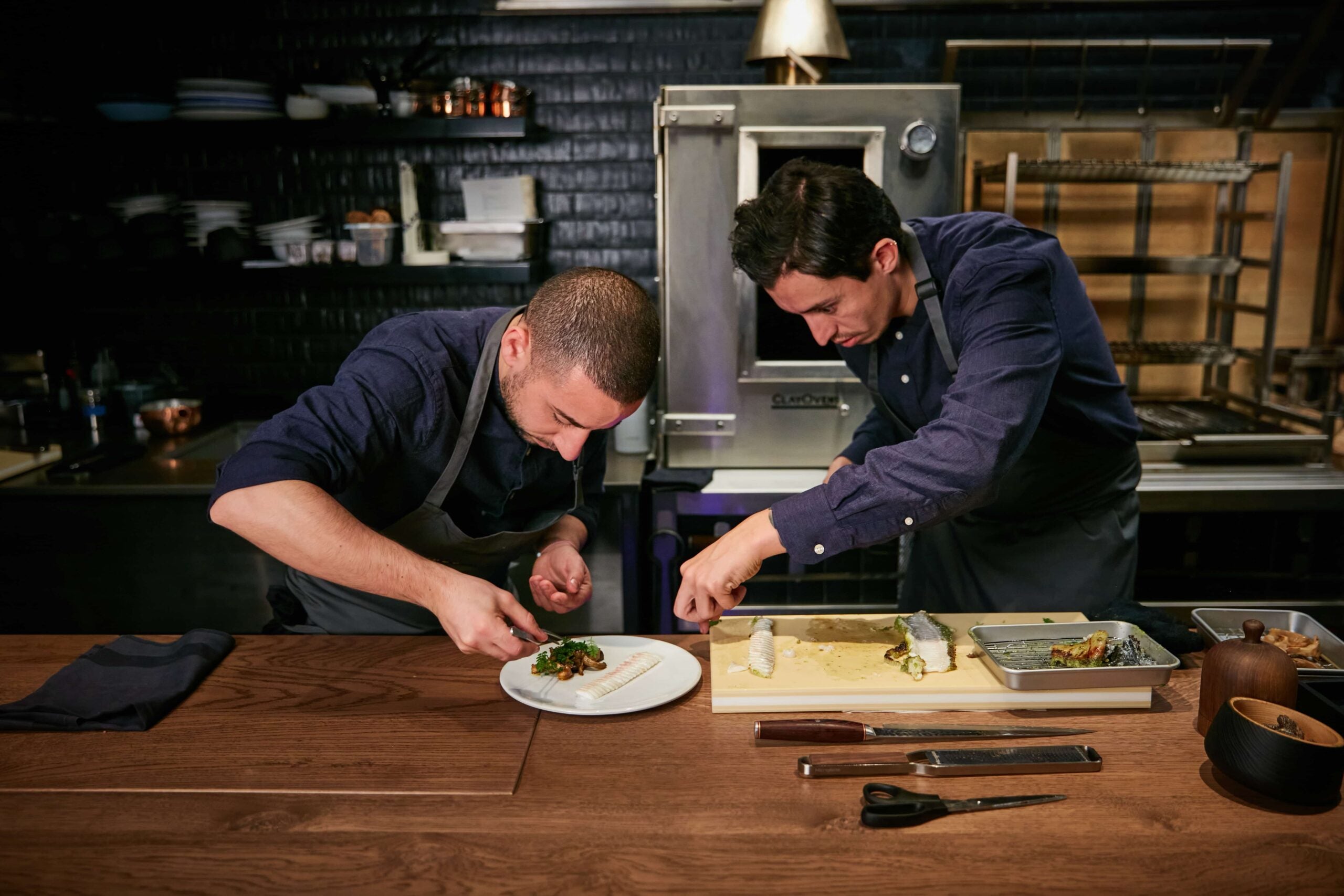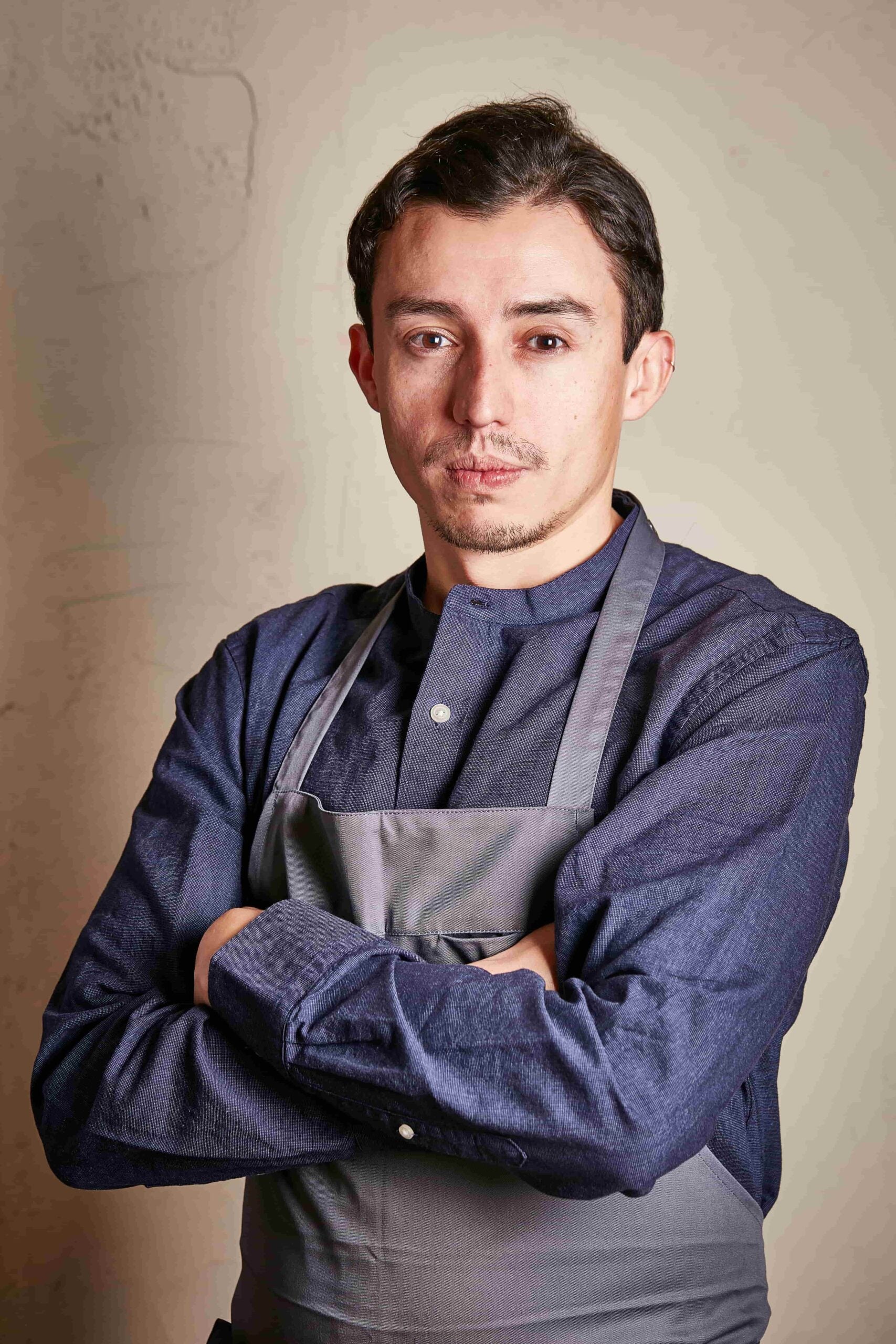 Raised in Bogota, Columbia, Prada's South American heritage makes up just one of the numerous inspirations, cultures and experiences that blend to create the food at HUMO. Having spent his childhood surrounded by great family chefs and fresh produce, at 16 he joined his first restaurant.
Prada went on to cook all over the world, cutting his teeth in Hong Kong, Dubai, Lima and Miami, soaking up plenty of knowledge and technique in the process. Eventually, he settled in London working for several big names including Michelin-star chef Endo Kazutoshi at his restaurant Endo at the Rotunda.
Described by many as Endo's protégé, Miller spent years under his wing before setting out on his own — albeit under the same backers, Creative Restaurant Group — to launch his own London spot, HUMO.
Prada carries with him the attribute that makes all fantastic chefs: he's got something to prove. Having worked as head chef at Endo at the Rotunda for over three years, he now finds himself at the helm of his own vision. HUMO's a true shrine to fire-based cooking and represents the amalgamation of what Prada has picked up throughout his globetrotting time in the industry. I had the chance to speak with him briefly after service, he beamed with energy and passion for this concept, even after what was undoubtedly a grueling shift amongst the flames.
[See also: Rising Star Chefs in the Michelin Guide]    
Menu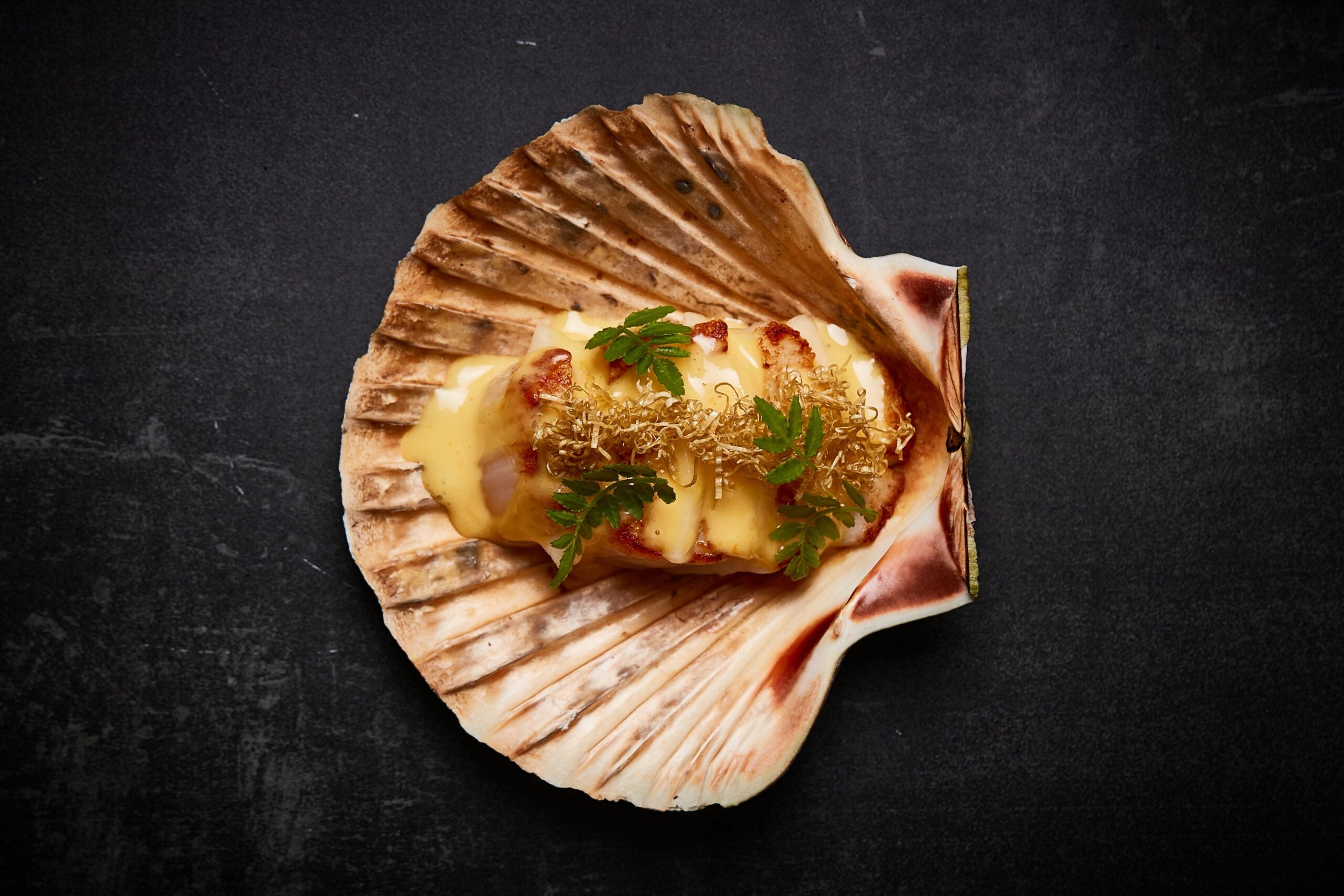 Creatively in this homage to traditional flame-based cooking, the à la carte menu follows the journey of fire. At HUMO there's no amuse-bouche, starter, main or dessert, instead, London dinners will choose from ignite, smoke, flame, embers and cinders. Following the journey of a flame from its initial inception to its dying moments, these descriptions also fairly accurately represent the level of flame that is used in the preparation of each dish.
The initial dishes represented by ignite are all raw, here Prada is flexing his hard-earned technique from years spent in a world-class Japanese kitchen. Eight-day-aged Ike-Jime Hampshire trout, three-month-aged caviar and rausu kombu are fine examples of Prada's dedication to both high-quality and British-sourced ingredients, while the seven-day aged yellowtail with citrus sauce is paired with Castillo coffee from Prada's family farm, a wholesome touch that reconnects diners to the chef's South American origins.
Ignite turns to smoke: "The evaporation of water and CO2 immediately after the wood is lit and heated" states the menu. These dishes are all vegetable-based. Cauliflower is cooked under ash, and served with rokko miso foam, nori and Australian black winter truffles. There is also a garden salad comprised of smoked Cornish Agria potato, mizuna, wild rocket, East Sussex sansho pepper and heritage radishes.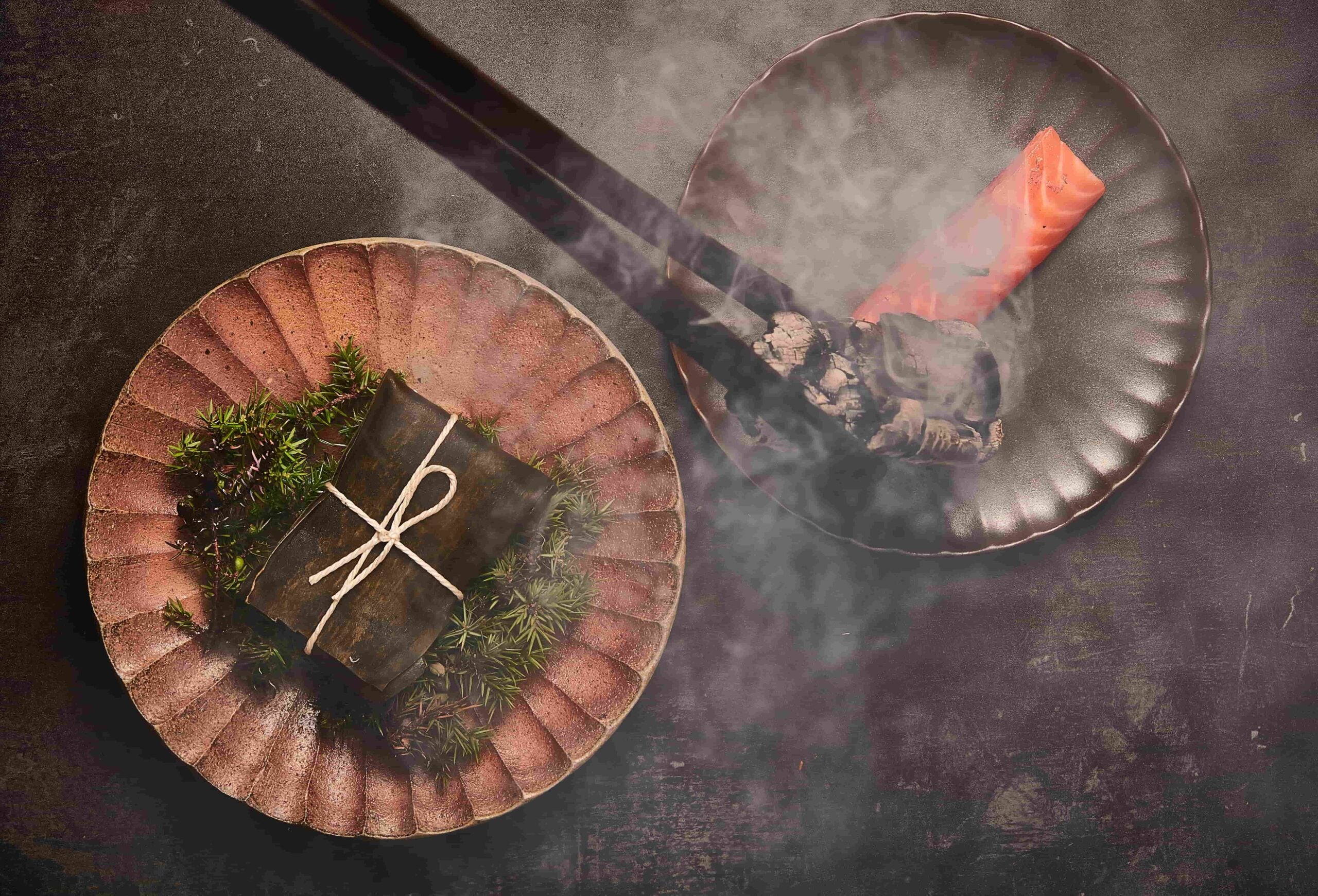 Flame and embers represent the fish and meat portion of the menu and also bear closest contact with the fire. Certain types of wood are cooked over to impart subtle flavors, think whiskey barrels, applewood and silver birch.
Flame presents magnolia flamed Cornish brown crab with fermented amarilla plum and Yorkshire pearl barley. Or perhaps hand-dived Orkney Scallop, with nectarine, Speyside sabayon (a sweet sauce made with whisky), and kinome leaves.
The embers portion of the menu changes daily. I tried the 29-day aged Cornish lamb which was beautifully pink and served with a beetroot sauce, castelfranco (a heritage Italian vegetable with mild radish flavouring), and onion chutney.
Cinders brings this experimental journey through the life of a flame to an end. Even something as classic as a lemon tart its reworked in the style of HUMO, utilizing oak burnt Italian meringue, fresh yuzu and sake lees ice-cream, an East-Asian twist to the classic western dish.
[See also: Elite Traveler Reveals Top 50 Hotel Suites for Epicureans]
Abajo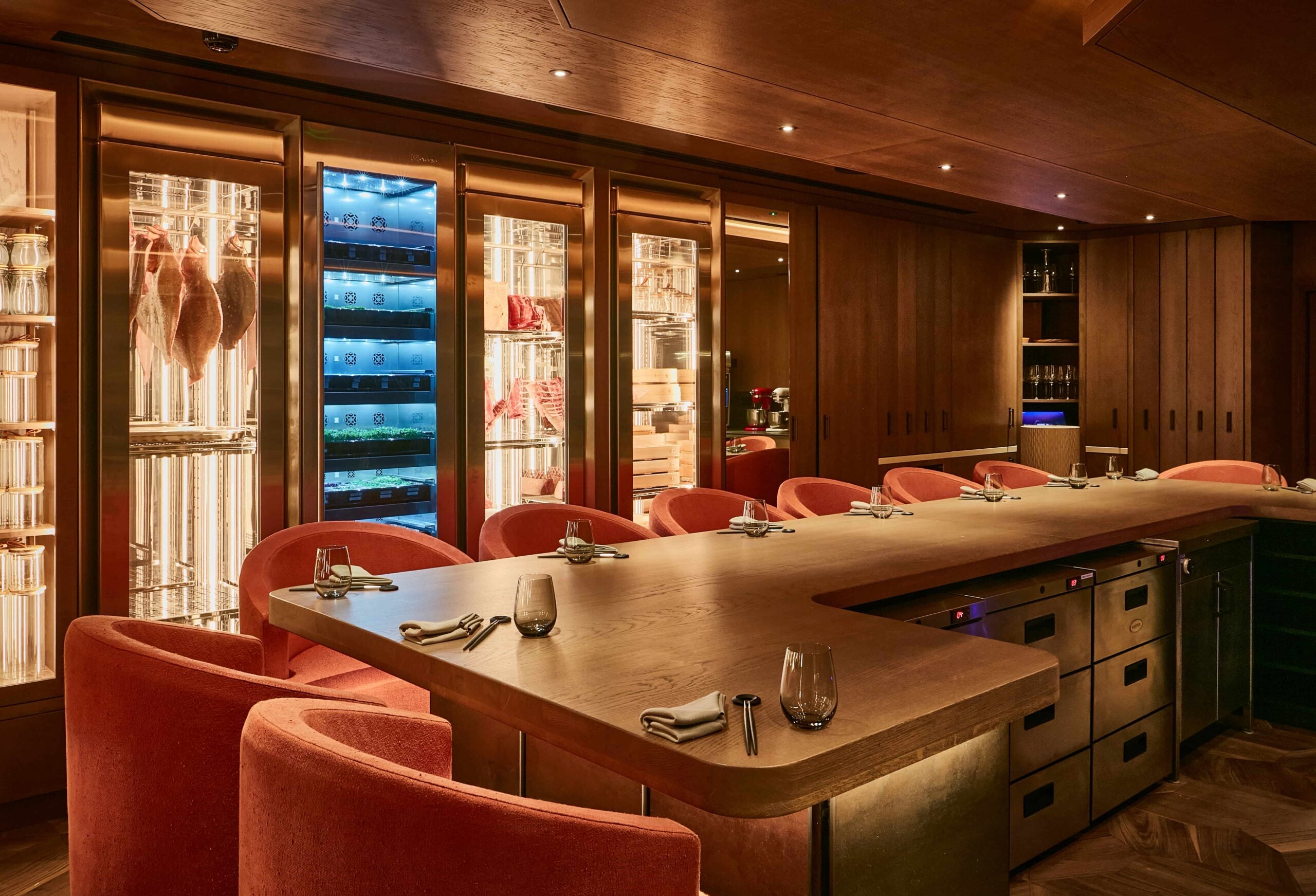 Those looking to push the HUMO experience to the max will be catered for at Abajo, the restaurants chefs table. Here, the chef takes the lead and presents diners with a selection of menu chapters, revealing the full HUMO experience.
A set service begins at 7pm with dishes from a weekly changing menu cooked before your eyes. In an entirely private room with its own kitchen, dinners experience what is essentially an omakase-style tasting menu.
There's also a selection of three different wine flights, expertly paired by sommelier Merlin.
HUMO offers an à la carte menu and a six-course tasting experience for $128 pp. The experience at Abajo is available for $160 pp.
HUMO, 12 St George St, London W1S 2FB