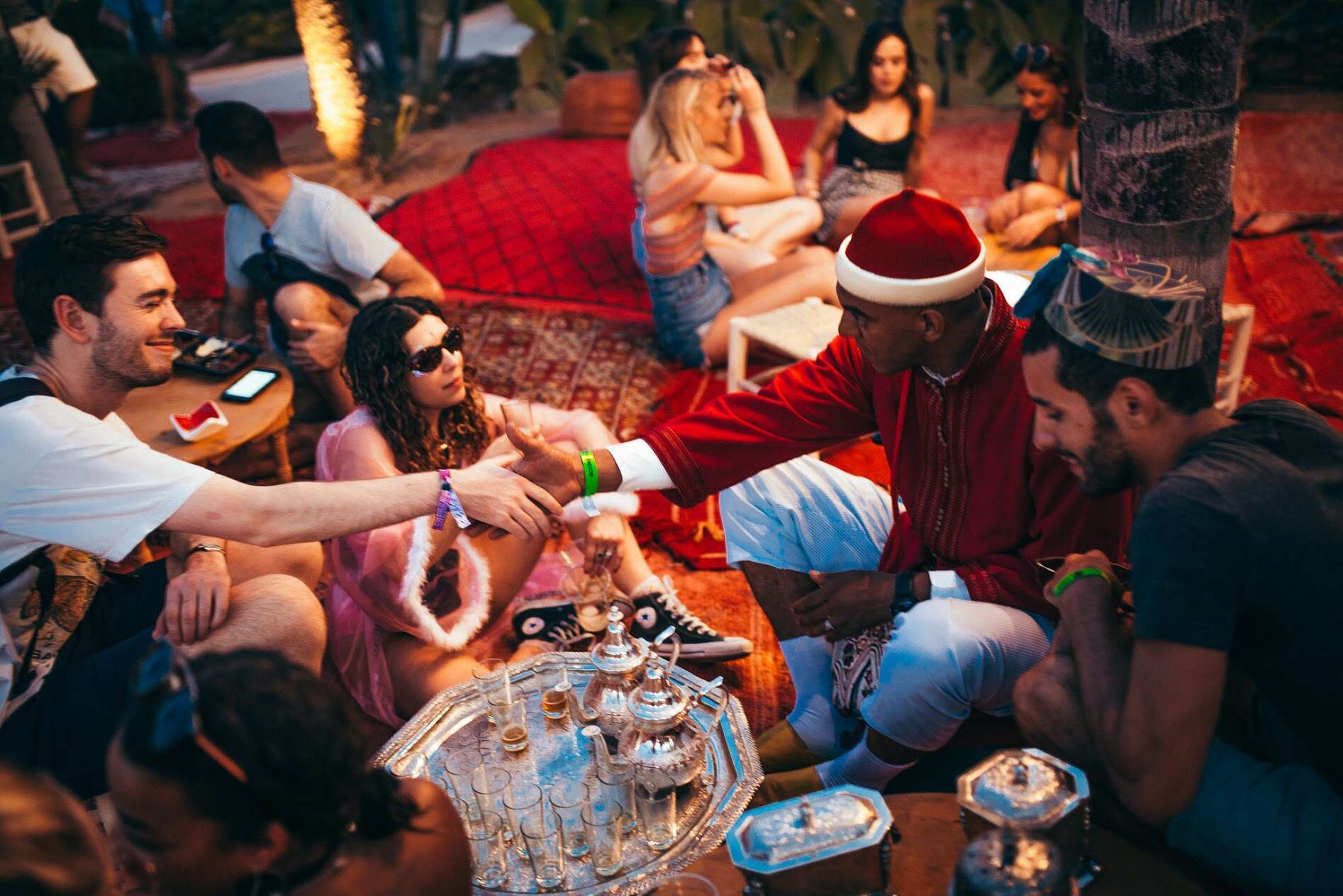 Festivals have always been a summer staple for all music lovers, but did you know that you do not need to worry bout muddy fields, portaloos and warm cups of beer anymore?
From yachts, luxury cruise ships, king-sized beds, 24-hour room service and Michelin-starred meals can also be part of the true festival experience, in several events all around the world. DJ Khaled himself has created a luxury festival cruise, the SummerFest Cruise, which sees thousands of people every year enjoying the Bahamas sun while listening to some of the biggest names in the music industry on a fully-equipped cruise ship.
Whether you are in a field near London on the Thames or in the Californian desert, there are many options that can elevate your festival experience. Elite Traveler has come up with a luxury festival guide, which you can read below.
SummerFest Cruise – Bahamas
2 – 5 July 2023
Onboard the Norwegian Sky, with musical guests like Lil Baby and Future, alongside previous artists like A$AP Rocky and Migos, SummerFest Cruise will take you on a journey from Miami to the Bahamas across four days. 
This luxury and exclusive festival was created by DJ Khaled, with the intent of being up close and personal with celebrities and favorite artists. Among all the available events, guests will be able to enjoy hip-hop comedy show, two after-parties every night, pool parties, a beach party on a private island called Great Stirrup Cay, excursions, and even workout classes. 
The Norwegian Sky has a 2,000-guest capacity alongside 900 staff, offering ten different dining options, a wide variety of bars and lounges and even a cruise casino. Guests can't go wrong with Mediterranean cuisine on the menu, a cruise mall trip, breakfast in bed and a spa. If you are looking for the perfect group summer break, cabins on the SummerFest Cruise range from around $2,000 to $6,000 per person. 
[See also: Whatley Manor: Sustainable Luxury Without the Compromise]
Coachella – California
12 – 14 / 19 – 21 April 2024
The most famous music festival in the world happens every year in California and, every year, it attracts the biggest celebrities in the world. Coachella, filled with snow-white sunbeds, wood burners, air conditioning, Ferris wheels and an onsite concierge, is the original luxury festival. 
Many tickets are available, alongside camping options. The Safari Camping, priced at $9,000 per person, is complete with Guest Passes, golf cart transportation, four nights in an air-conditioned Shikar-style tent tucked behind the venue and VIP areas access, and it is by far the most expensive ticket available. In addition, guests can also enjoy a unique full-course meal prepared by renowned chefs in the VIP Rose Garden for $350 a night. 
The likes of Beyonce, Frank Ocean and The Weeknd have performed on Coachella stages and, even if the 2024 lineup has not been announced yet, it will definitely follow in the previous editions' footsteps. 
Henley Festival – Oxfordshire
5 – 9 July 2023
Henley Festival is known in the luxury festival circles as the most exclusive and unique party experience in the world, where being overdressed is never an issue. This festival's exclusivity also permeates the dress code, which is strictly black tie Set in Henley-on-Thames, there are some incredible extra festival experiences to get involved with, including a Moet Champagne lawn, a floating stage, bespoke concierge services and even Michelin-starred food.
There are two main restaurants on the premises: the Riverside and the Terrace Restaurants, with bespoke menus starting at $115 per person with only locally-sourced and high-quality ingredients. 
Entertainment-wise, guests can enjoy pop music and R&B to jazz and classical, with performances from music legends like Rag 'N' Bone Man, Robyn and 25 comedy acts. The pricing varies from $95 for general admission to $204 for premium tickets. This annual black-tie boutique festival is thrown nearby an actual quintessential British location with a great view of the River Thames, sounds like a good old-fashioned festival party. 
Sea Dance Festival – Croatia
17 – 19 August 2023
Changing location after eight years in Montenegro, the Sea Dance Festival is moving to Croatia for its ninth edition. To reflect the move, its new title is Sea Dance Festival: In Exile. Specifically, it will take place on the golden island of Krk in Croatia. 
As one of Europe's biggest festivals, guests can expect over 100 international acts to perform, with genres going from pop music to drum and bass. This year, the headline spot is occupied by Alok, the only DJ to perform in front of more than a million people twice in his career. Alongside David Guetta and Martin Garrix, he is one of the most renowned artists in his field. 
Ideally situated on the beautiful coasts of Croatia, soak up the sun and take in stunning views near the beach while listening to authentic sounds of pure bliss. 
[See also: When is it the Best Time to Visit Hawaii?]
Wilderness Festival – Oxfordshire
3 – 6 August 2023
Celebrated for its wide array of performers, opulent banquets and Michelin-starred feasts, Wilderness Festival is the only place where guests can enjoy the rich diversity of international dishes prepared by multi-award winner chef Jeremy Lee while listening to the talented Christine and The Queens, the Chemical Brothers and Arlo Parks. 
With a wide variety of alternative events, from camping and survival methods, swimming in the nearby late right through to visiting woodland theatres and witnessing wildlife, Wilderness Festival is truly a once-in-a-lifetime experience. 
For those who don't want to get their feet too muddy, there is accommodation available in luxury yurts, lodges, cabins and bell houses, reaching prices of £3,000 for two people.
We Love Green – Paris
TBA
Held in one of the world's most picturesque destinations, We Love Green takes place every year in Bois de Vincennes, which is widely recognized for its wildlife and natural surroundings, often visited by locals for its scenic lakes and alpine forests. Just a short distance from the French capital, the festival takes place over three days, bringing together a mix of French and international artists. 
The Parisian festival offers sustainable development workshops, ecology exhibitions, conferences and screenings throughout the weekend. Whilst educating festival goers about eco-responsibility, music icons like Anderson.Paak, Brit-award winner Little Simz, iconic band Bon Iver and enthralling DJ Skrillex have serenaded serenading all guests. 
Usually, three-day tickets start at around $175 but, due to the artists' popularity, it is always quite hard to secure a ticket.
Sziget Festival – Budapest
10 – 15 August 2023
Billie Eilish, David Guetta, Florence + The Machine, Imagine Dragons, Lorde, Mumford & Sons and Macklemore are 2023's headliners at Budapest's Sziget Festival. 
Welcoming people from over 100 different nations, who are in for a treat as it will be packed with some of the biggest names in the music industry across more than 50 stages, this festival is one of the highlights of the summer. 
While the basic full festival ticket starts at $415, there are elite options when it comes to camping. For instance, there are luxury podpads for $1,345 each, or a whole wooden hut for around $1,000. Alongside luxurious accommodation options, Sziget Festival also offers guests breakfast, massages, lockable equipment and other services such as golfing and fishing. 
[See also: The Best Luxury River Cruises]
It's The Ship – Singapore
1 – 3 November 2023
It's The Ship is Asia's Largest Festival at Sea, happening in November in Singapore. The cruise ship is The Genting Dream, and the theme is Halloween. The Haunted experience offers its guests a unique journey soundtracked by headliner DJs like Knife Party and Flosstradamus. 
Including an arcade, a theatre and a lounge, alongside two bistros and three bars, It's The Ship has a lot to offer to its guests. It even has a shopping center on board with luxury brands and designer products, spread across 1,000 square metres. In order to unwind from the spooky atmosphere on board, there is a fully-equipped gym, a luxury spa and even a barber. If you miss running outside, in addition, the ship also provides an outside jogging track.
This party Halloween cruise is also very exclusive, with most of its cabins already sold out. Starting at $1,139 for the standard interior cabin, the Palace Deluxe Premium suite will set you back $7,919. 
Cayamo – Dominican Republic
1 – 8 March 2024
Already sold-out, the Cayamo festival is another cruise festival leaving from Miami and reaching the Dominican Republic and Aruba's coasts. The Norwegian Pearl will float through the Caribbean and give its guests the chance to unwind and relax surrounded by music and breathtaking views.
The musical performances will involve artists like Lyle Lovett and The Mavericks, but music is not the only vital component of the cruise. It includes a swimming pool and various hot tubs, a casino, a spa, a fully-equipped luxury fitness center, a sports court and a walking track to keep fit even in the middle of the ocean. 
If you are a lone traveller, Cayamo put single-guest cabins up for grabs, starting at $3,485 for an interior cabin and reaching $12,965 for the Owners Suite.