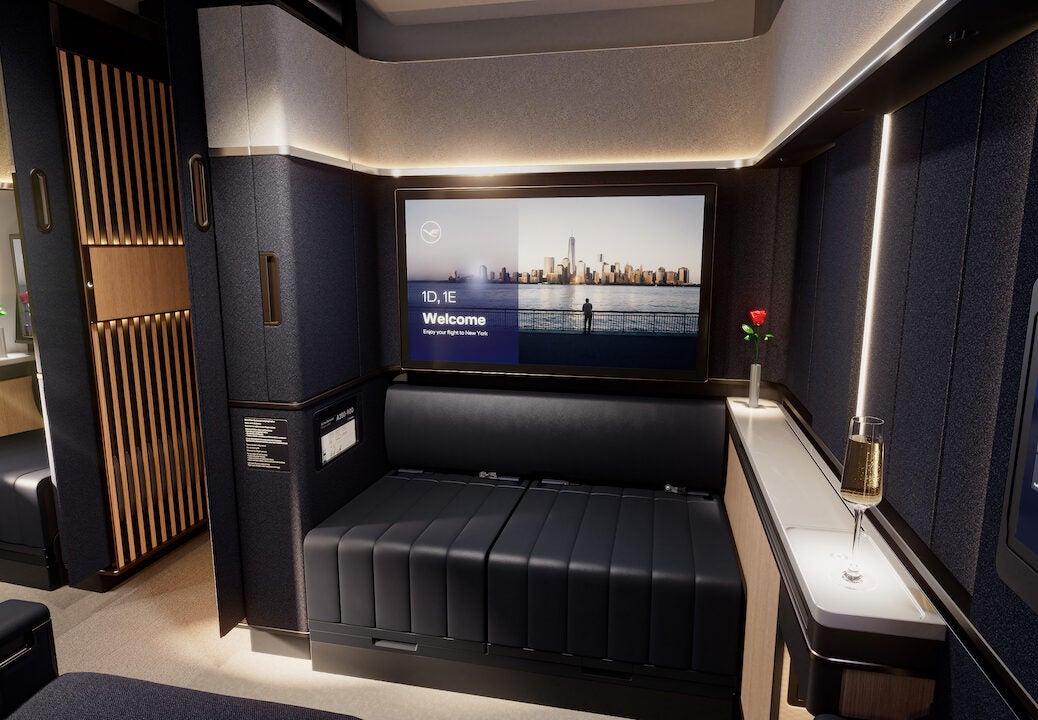 This article contains affiliate links. See our Privacy Policy for more information.
Private aviation is more popular and more accessible than ever. While commercial aviation will never match the flexibility and exclusivity of flying private, it is fighting for its share of the high-net-worth sector with admirable spirit. First class and business class services have improved significantly over the last decade, to the point where they can be as comfortable and more cost-effective than a jet.
But there is also a huge gulf in price between first and business, with a ticket to first class often twice the price of business. Is first class really worth the additional cost? To find out, we decided to delve into the key differences between the two. We've narrowed this down into four important categories: seats, food and drink, lounges and service.
The second you step foot on the plane, the most noticeable difference between flying first class and business class is your seat. While business class passengers are given a lot more leg room than economy and a fully reclining seat, those with a first class ticket are often treated to entire suites with fully closing sliding doors, extra comfy double beds and enormous entertainment screens.
[See also: Lufthansa Reveals New First Class Suite Plus]
When it comes to onboard mealtime, although both business and first class will provide a far superior culinary offering than economy class, first-class passengers (depending on the airline) are often treated to silver service, with indulgent menus including lobster and fillet steak not unusual.
A first class ticket will also bag you access to the very best of the best in airport lounges which can often include à la carte dining, complimentary champagne and luxury spa and shower facilities. Though business class can sometimes afford you access to similar if not the same lounges as first class, you may not be able to access all of the top-level facilities as your first class counterparts.
The final key difference between first class and business class is usually found in the level of service. With just 14 first class seats on most international flights, those traveling top-tier will benefit from exceptional levels of attention. They will also usually be the first through check-in and security and front of the line to pick up their luggage at the other end, though business class passengers won't be far behind them.
With all of that being said, first class and business class can vary widely between airlines so to make life easier, Elite Traveler reveals all you need to know about the differences between first class and business class on five of the world's biggest airlines.
American Airlines
First Class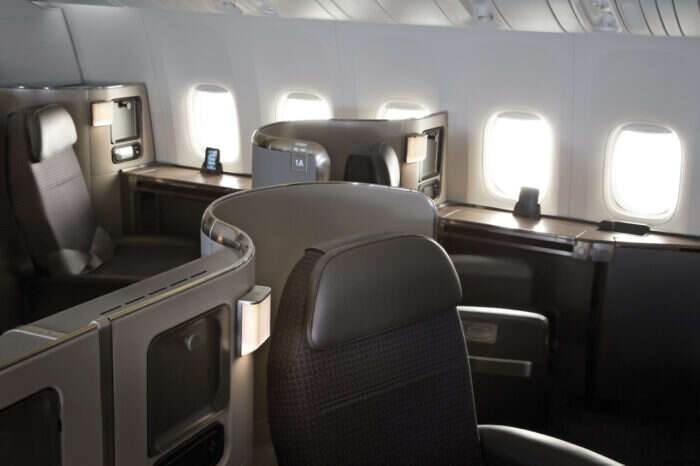 Flying first class on America's largest airline comes with a wealth of benefits. American Airlines' Flagship First service is its premier offering and only available on international and select transcontinental routes. 
There are two models of aircraft that offer the American Airlines Flagship First service: the A321 Transcon and the Boeing 777 300 ER. Both feature comfortable lie-flat seats measuring a roomy 21 to 21.5 inches, which is approximately 4 inches wider than economy class.  With just eight Flagship First seats available on the Boeing and 10 on the A321, staff are extra attentive and the experience feels a lot more intimate than many rival airlines.
Of course, you can expect other benefits such as speedy check-in and boarding as well as chef-led menus and curated wine lists — plus a comfy set of Casper pajamas will be waiting for you on board. 
Business Class
American Airlines is probably better known for its sizable business class offering: Flagship Business. Available on more aircraft, it's often the highest tier option available on a number of routes and offers many perks. Though the seats might be ever so slightly smaller than Flagship First on some aircraft, on international flights they all lie flat, allowing you to catch some much-needed shut-eye before landing.
Flagship Business passengers, like their first-class counterparts, also gain access to American Airlines' five premium US Flagship lounges and the airline's exclusive Heathrow arrivals lounge.
British Airways
First Class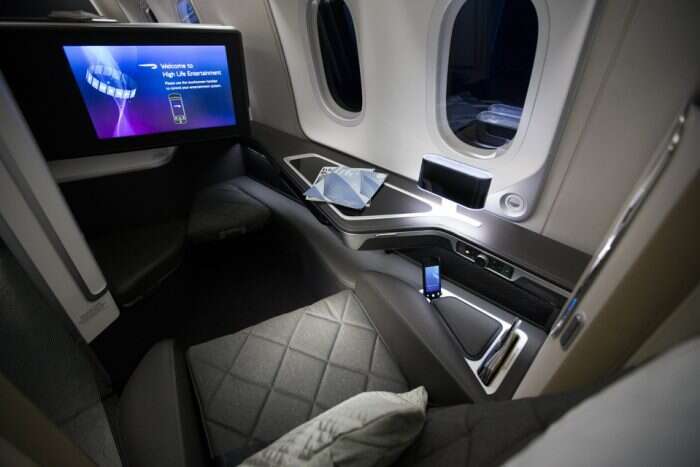 Flying first class on British Airways gives you access to your own spacious private suite featuring an expansive lie-flat seat with a memory foam mattress topper and 400 thread count sheets. Every detail has been carefully curated: from the designer crockery, silverware and glassware to the complementary Temperley loungewear and 'his and hers' Elemis amenity bags bestowed upon passengers. 
The à la carte 'Dine Anytime' menu includes signature dishes, such as pan-fried stone bass and aged Herefordshire beef and is served alongside a selection of wine, champagne and cocktails. 
While offering a number of premier first class lounges across the globe, the most luxurious of all is the elegant Concorde Room, located at both London Heathrow Terminal 5 and New York JFK Terminal 7. Reserved exclusively for first class passengers, it features discreet booths, full waiter service, private cabanas and an ultra-modern business suite.
Business Class
Access to the Concorde Room lounges isn't the only difference between flying first class and business class on British Airways. Known as Club Europe and Club World, business class passengers (for the most part) will have a seat instead of a 'suite', however, the airlines new 'Club Suite' is available on selected flights offering passengers first-class levels of privacy. 
Whether in-suite or seat, all passengers will receive 200 thread count bedding, toiletries from lauded UK brand The White Company and four-course meals, as well as BA's signature afternoon tea on certain routes. 
[See more: The Best First Class Airport Lounges]
Emirates
First Class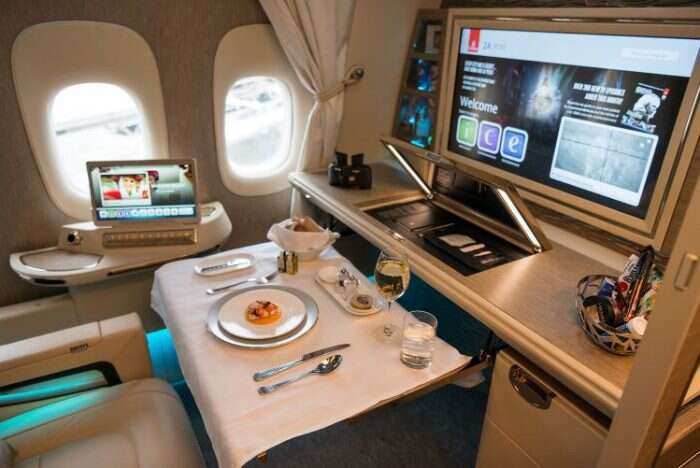 Clinching the Best First Class award at Tripadvisor's Travelers' Choice Awards last year for the 4th year running, the Emirates first class offering has built a reputation for being one of the industry's best. 
Available on both Emirates' A380 and Boeing 777, Emirates describes its first class service as being "as close as it comes to your own private jet". And they are not far from the mark. Both aircraft offer sumptuously designed private first class suites with large flat-screen TVs and sliding doors. Bvlgari amenity kits as well as super glamourous onboard cocktail lounges are some of the other perks. Onboard the A380 passengers will also have the added benefit of the shower spa. 
The drinks and à la carte menus include indulgences such as Dom Perignon and caviar, with dishes served on Royal Doulton fine bone china.
The airline's worldwide network of lounges are also somewhat of an industry benchmark, with the most luxurious of all located, unsurprisingly, in Dubai. Like a (very exclusive) terminal within a terminal, first class passengers will gain access to a dedicated area complete with spa and Le Clos wine cellar. 
Business Class
Emirates Business class is one of the most luxurious in the industry. Though not quite reaching the dizzying levels of the opulence of Emirates first class, it features roomy lie-flat seats complete with a personal mini-bar and similar Bvlgari amenity kits found in first-class. 
The food and drinks options are excellent and there's even an onboard business class cocktail lounge on certain jets. Passengers are treated to regionally inspired gourmet menus served on the same Royal Doulton crockery as first class but the Dom Perignon has been traded in for Moet & Chandon and the caviar has made way for a selection of 'light bites'.
Singapore Airlines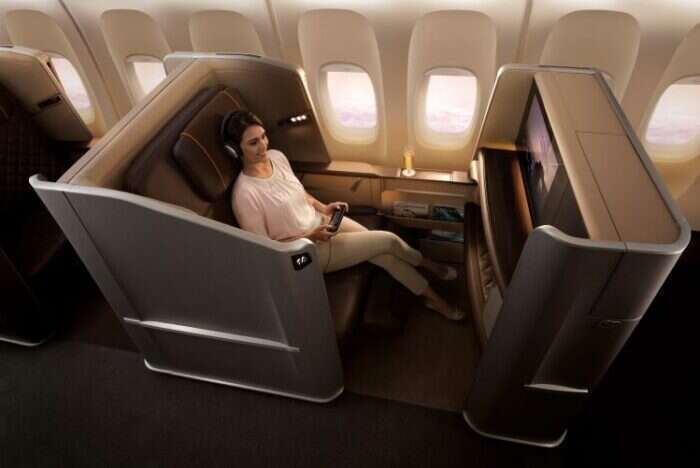 First Class 
Quite possibly the very pinnacle of commercial airline luxury is Singapore Airlines Suite Class. A step beyond first-class, the lucky few that get to experience it can expect single and double en-suite rooms more akin to a luxury hotel. However, the airline's first-class offering is also something special. You could fit almost two people on the extra-wide fine leather seats, all of which come with a curved partition for added privacy. Within their seating areas, passengers will also find a number of luxury bells and whistles, including leather-bound male and female amenity kits by Lalique. 
Expect a full dining service with a curated selection of à la carte dishes from famous chefs available to book in advance using Singapore Airlines' 'Book the Cook' service. Options include everything from Cantonese roast duck to sautéed scallops or lobster thermidor. All dishes are expertly paired with fine wines and passengers have their choice of Dom Pérignon, Krug and Taittinger Comtes de Champagne.
Business Class 
The seats are naturally smaller in business class but on international flights, all can seamlessly recline into a bed crafted from soft leather and feature excellent storage for those in-flight essentials. 
Passengers will receive amenity kits from luxury brand Penhaligons and can even use the 'Book the Cook' service on selected routes making lobster thermidor a real possibility in business class. The wine options are also top-notch.
Cathay Pacific 
First Class
When you fly first class with Cathay Pacific, every last detail is taken care of to ensure you have a comfortable flight from the BOSE noise-cancelling headsets to the selection of luxurious organic products to soothe and protect your skin. Passengers have their very own ultra-exclusive suite featuring a seat that transforms into a roomy fully flat bed, topped with an extra thick mattress, 600-thread count bedlinen, and a selection of soft pillows to have you drifting off in no time.
And when it comes to dining, you certainly won't be disappointed. The menu elevates Hong Kong flavors to new heights using only the finest ingredients from ethical and sustainable producers. Highlights include the pan-fried black cod with edamame and gremolata, and braised garoupa with bean curd and shitake mushrooms in a ginger and scallion sauce. As you would expect, there's an impressive selection of top champagne cuvees available, served with addictive caviar blinis.
Business Class
While you won't have your own suite in business class, you'll still get the benefits of a comfy seat that turns into a fully flat bed when you need some shut eye. Thoughtful touches like the Bamford toiletries, slippers and sleep masks make for a relaxing flight.
Passengers will also have access to Cathay Pacific's premium lounges and enjoy a contemporary menu with plenty of choice. The wok-fried seafood in lobster broth with crispy and steamed rice is not-to-be-missed.