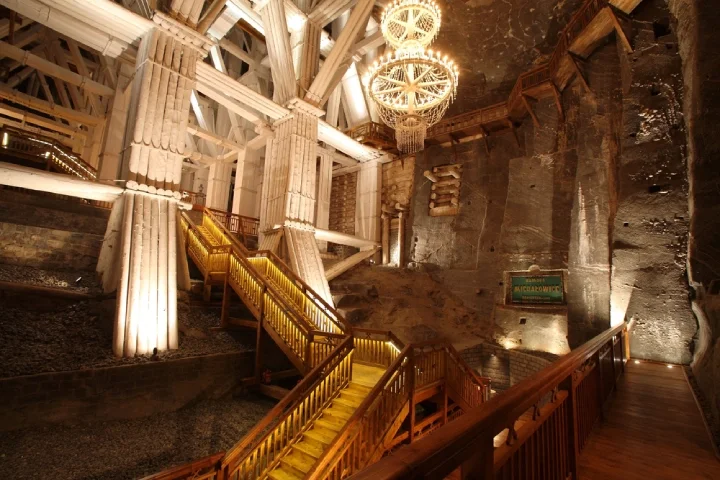 Poland is a top-tier spa and wellness resort for various reasons. From its snowy mountaintops to its fairytale-like woodlands and its curative hot springs, the country is magical from many points of view. 
Since there is a rising desire for health luxury tourism, Poland provides an option to well-traveled roads for individuals seeking to reconnect with nature.
In this article, Elite Traveler will look at the enchanting settings and first-rate lodgings that will make Poland the wellness destination in 2023.
Wieliczka
A Unesco World Heritage site, Wieliczka was once home to the world's oldest operating salt mine, excavating table salt from the 13th century continuously until 2007. To replace the industry,  the salt mine was converted into an incredible tourist attraction, offering amongst other things, a beautiful health resort. Sitting 400 ft below the surface, visitors can bathe in the subterranean Lake Wessel and enjoy its unique therapeutic benefits. Using the underground microclimate and special selenium solutions, the spa offers programs that are proven to treat many common respiratory diseases. The health resort has also recently introduced a new program specifically designed to treat the effects of Long Covid.
Ciechocinek
Situated 15 miles from the popular city of Torun, Ciechocinek is an easily accessible spa town offering a mixture of wellness facilities and charming scenery. Due to its lowland position and mineral springs, the town has its own microclimate that is believed to offer many therapeutic healing properties. The waters here have a wealth of minerals including sodium, iodine and boron, each bringing with it a different natural benefit. Stay at Villa Park and enjoy access to its expansive spa, which includes a state-of-the-art cryochamber.
[See also: Twenty for 20: Iconic Spas of the 21st century]
Kowary
Head for the Polish hills and experience some of the cleanest air Europe can offer. Situated just a short drive from Kowary, the luxury mountain resort Jelenia Struga is surrounded by thick forest. Wake up to the sound of babbling brooks and birdsong before heading to its Radon Inhalation Room, one of only five in the world. Created in an old uranium mine, the surrounding rocks emit a trace amount of radon into the air, which when breathed in is thought to boost the body's immune system. Radon can expand the blood vessels, thus lowering blood pressure and increasing blood supply to the vital organs. The resort also offers several holistic programs that look to improve the mind, body and soul. Forest bathing is a must.
Krynica-Zdroj
Founded in the 16th century, Krynica-Zdroj is the biggest spa and mountain health resort in Poland. Sitting close to the Slovakian border, visitors come here to ski in winter and bathe in its natural springs in summer. It was once and to an extent still is Poland's most fashionable mountain resort. Until the early 20th century, it was a spa retreat for the most creative minds in Poland. As a result, it is full of charming 19th century villas, many of which are guesthouses. The Pump Room is its main attraction. Choose from eight different mineral springs, each offering different benefits. Only the brave opt for the Zuber pool. The sulfurous element gives the water an eggy smell strong enough to induce nausea. It is, however, believed to be a miracle hangover cure. Escape the midsummer crowds at Dr Irena Eris Hotel Spa, a luxury resort that takes advantage of the area's natural healing properties. The resort's Spa Center offers a range of treatments to improve well-being in both mind and body. It also offers daily hikes into the depths of the forest, where the mountain air and sounds of nature can help restore a sense of calm.
[See also: The 5 best spas in Istanbul]
Masurian Lakes
An enchanting water world containing over 2,000 lakes, Poland's Lake District is one of Europe's best-kept secrets. Although widely visited by Poles and Germans alike, the stunning region remains largely unknown to the wider world. The Great Masurian Lakes is its main hub, offering the largest expanse of water, and the most hotels and restaurants. Hotel Galery 69 cuts out a quiet corner of what can sometimes be a busy town. It sits on the shores of Lake Wulpinskie (wild swimming, anyone?) and offers easy access to forest walks as well as wine bars. The hotel also runs a winter spa on ice, where guests bathe in the icy waters of the lake. The benefits of cold water swimming are numerous and undisputed, but it takes a brave person to dive into waters approaching 32°F.
Find out more at poland.travel