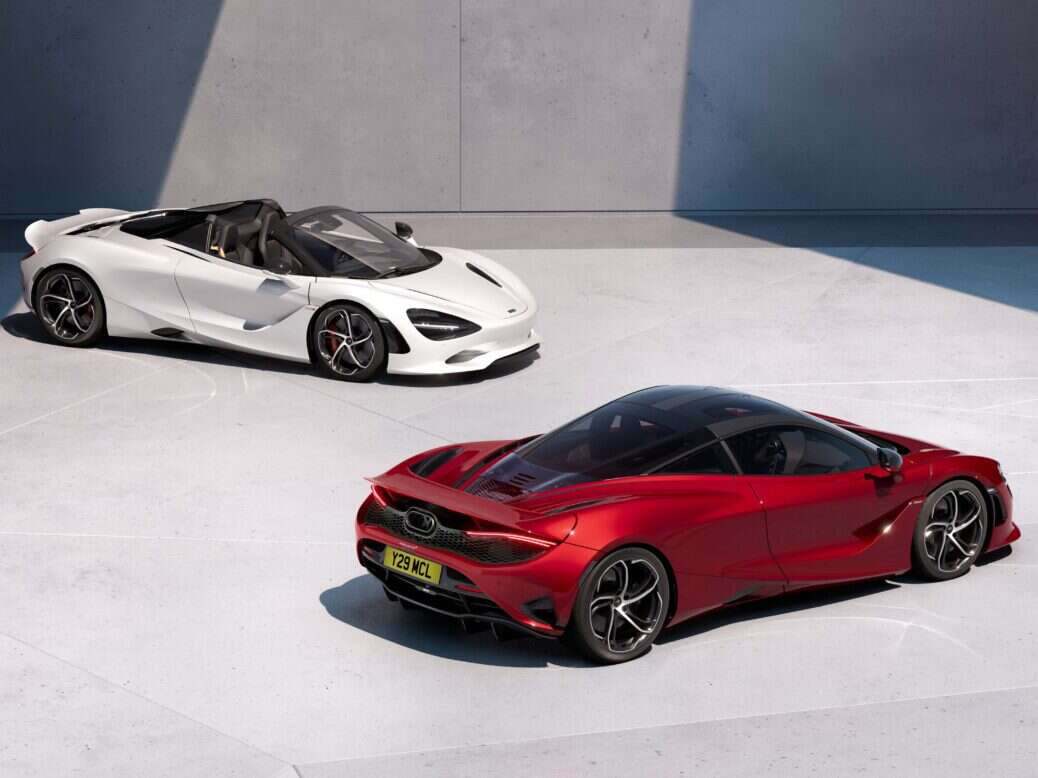 The trend for top cars in 2023 is rather simple: luxury automobile manufacturers relocated their collective intellect, channeling it into electric vehicles. Generational improvements, from closed-loop recycling to battery retooling, will continue to drive electric vehicle technology forward. Combustion know-how, on the other hand, has reached its nadir.
This preponderance shift created an industry-wide 'why not?' attitude. From supercars to sedans, SUVs to sportscars, it's either the dawn of something new or the dusk of the decades-long familiar. So why not simply enjoy the drive without needing to justify specifications? Why not push back against everything: engineers are accustomed to pushing boundaries. Why not create a ludicrous edition? Why not accept these transition times and make a car that moves the entire industry forward?
Although they may precipitate feelings of spontaneity and freedom, as any vehicle should, these cars thoughtfully tap into and reflect the current moment. Without question, the collection of automobiles in this year's Top Cars is a wild bunch.
Top SUVs
Rivian R1S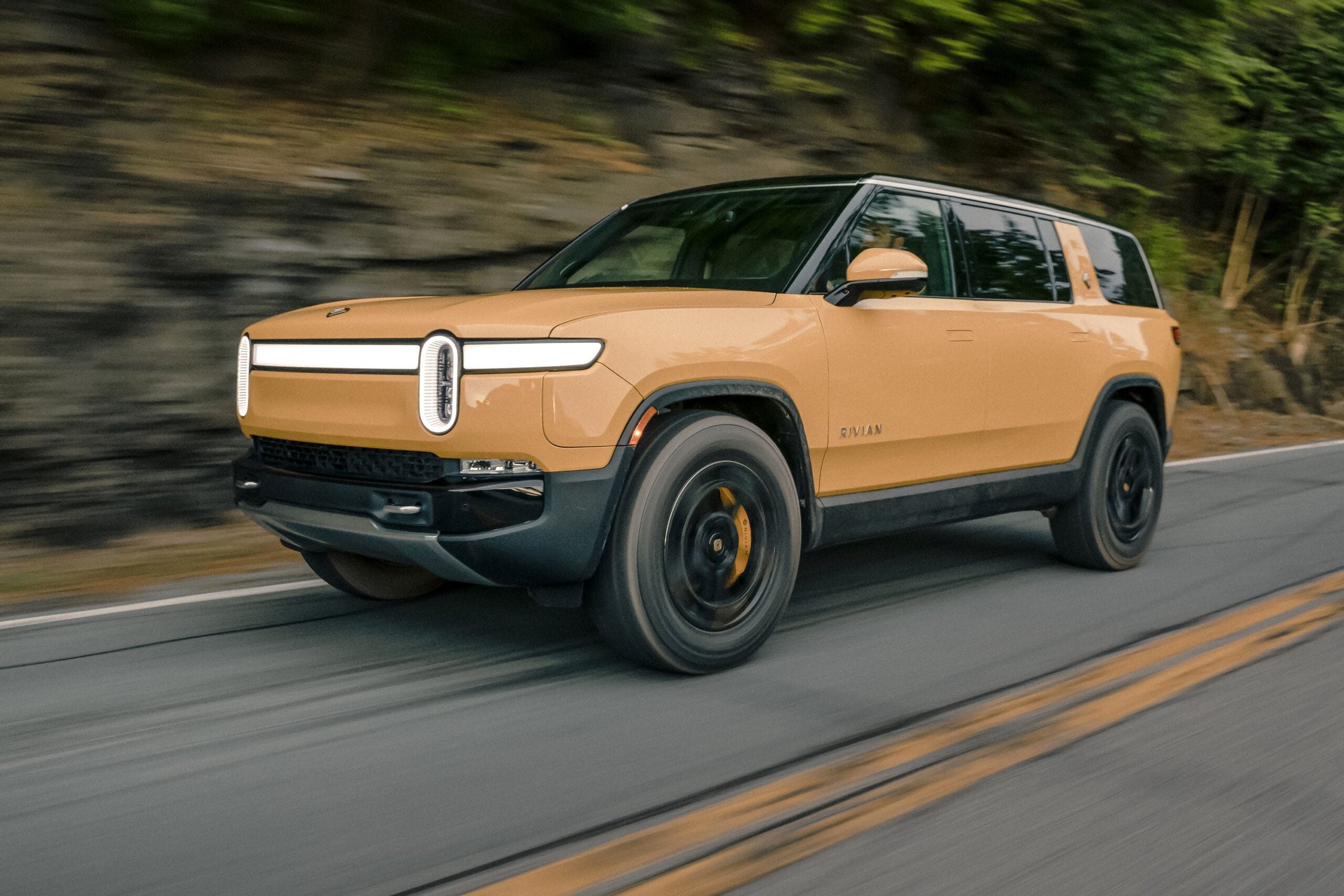 Although the Irvine, California-based startup went public nearly two years ago and garnered investments from both Ford and Amazon, the latter of which also placed a 100,000 vehicle build order, Rivian is still considered a newcomer.
The first manufacturer to bring an EV pickup to market, R1T, Rivian now offers the SUV version, R1S. With three drive systems on offer, the most powerful (featured here) includes a quad motor all-wheel drive that produces 835 hp and a range of 321 miles. Like many EVs, an impressive 0-60 mph (in three seconds flat) is achieved thanks to two dual-motor units, one for each axle.
Where Rivian excels, however, is in the details. Consider camp mode, a purpose-build preset that includes vehicle leveling, flood light activation and climate control that can run throughout the night, even when R1S is off. There's a trio of energy use options that allow occupants to charge items, as well as courtesy lighting settings. Likewise, Pet Comfort allows for precise climate control when animals are left inside.
Five off-road modes (drift, rally, soft sand, rock crawl, and all-terrain) as well as another five (snow, towing, sport, converse, and all-purpose) encourage owners to make use of the sport and the utility this vehicle offers. Likewise, four types of keys (phone, fob, card, and band) create a locking system adaptable to almost any activity.
Inside, there's second and third row seating that fold almost flat, and a front trunk that includes a drain, should owners want to rinse it out. Perpetual over-the-air updates exist for both the hardware and software platforms.
Rivian R1S from $92,000
Ferrari Purosangue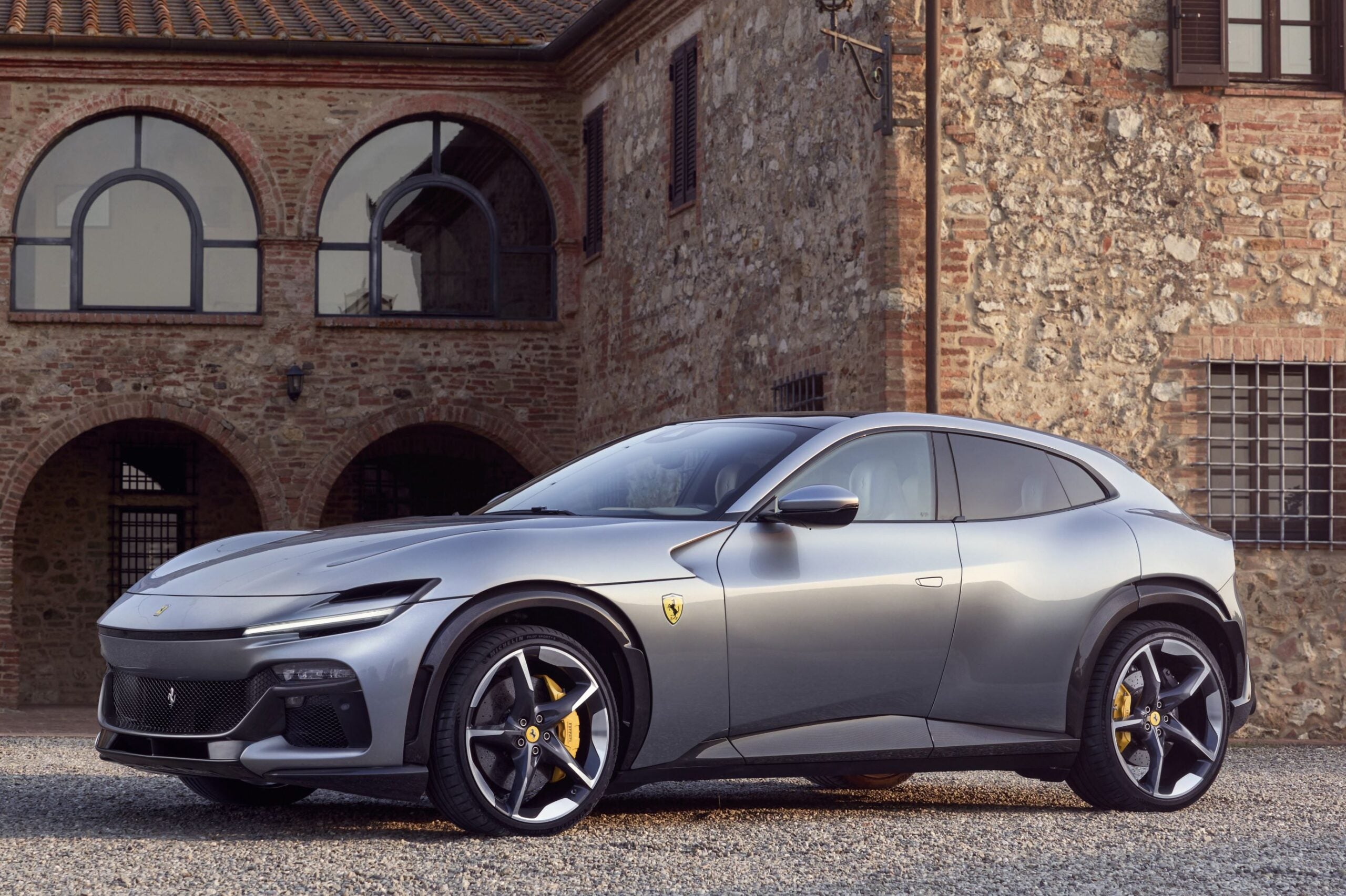 If the 715 hp, direct-injection 6.5-liter V12 engine fails to convey the overarching sentiment behind Ferrari's first four-door, four-seat production vehicle, perhaps its name, Purosangue (Italian for thoroughbred), will have those questioning the Prancing Horse in a full gallop ahead.
The naturally aspirated, mid-front-mounted engine is offset by an eight-speed dual-clutch 4×4 transmission at the rear, an impressive weight distribution feat. With a wholly newly designed chassis that's as rigid as dressage, Purosangue continues that tautness across its horizontal design language.    
Historically, Enzo Ferrari favored and personally drove vehicles with two rear seats. To maintain the reclining, long-legged posture that many deem classic Ferrari, but with two additional doors, engineers constructed a fresh bodyshell. Incorporating power-assisted back doors that oscillate toward the rear on a single hinge allow for an uninterrupted exterior eyeline: Ferrari styling but enlarged.       
The concerto of purrs, whirrs, burbles, and gargles will elicit elation for those seeking sound. But in the midst of a steady rainfall of electric vehicle debuts across luxury automakers, (including Ferrari) as well as the European Union's effort to ban tailpipes by 2035, Purosangue's mere existence is markedly brazen. It aligns with the brand's discreet efforts to ease EU standards for low-volume manufacturers, allowing the company a limited build allotment of internal combustion cars.
Should a company desire to fight for a combustion engine, Purosangue certainly offers up a compelling raison d'être.  
Ferrari Purosangue from $393,350
Ford Bronco Raptor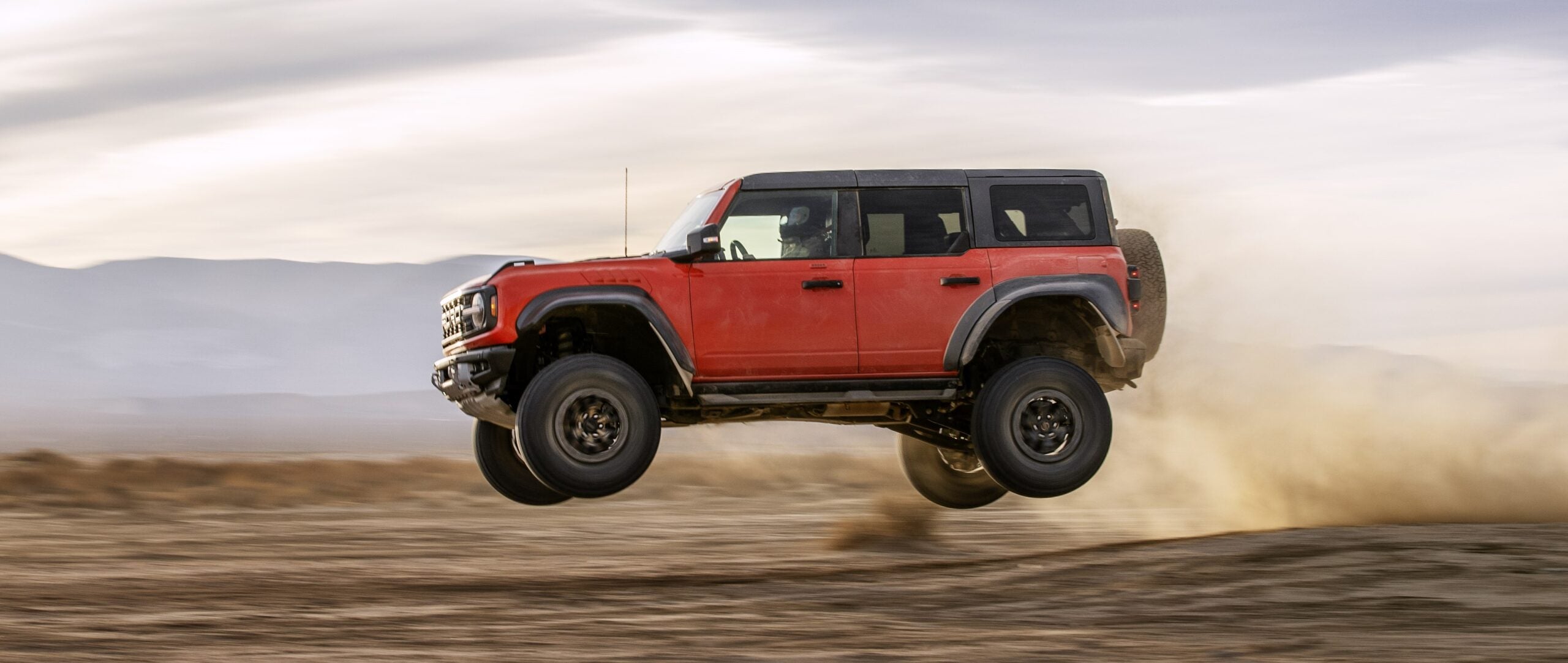 While it is technically road legal, Ford's Bronco Raptor belongs on dirt. Or rock. Somewhere certainly with sand.
At more than seven feet wide, Bronco Raptor, coined Braptor by enthusiasts, sits on a high-strength steel frame with new shock towers that augment off-road durability. Mated with a 10-speed transmission, the graphite iron-block twin-turbo, 3.0-liter V6 engine produces 418 hp. On-demand four-wheel drive offers both high and low-range assist as well as the newly available tow/haul mode (with a capacity of 4,500 pounds).
Although it usually stands for greatest of all time, Ford's GOAT modes — Goes Over Any Type of Terrain — contains seven driving possibilities. Baja mode, according to the brand, "activates a turbo anti-lag calibration to maximize performance over high-speed desert runs." Riding on a set of overlanding 37-inch all-terrain tires, FOX shocks and adaptive dampers further encourages dune bashing.
Marine grade interior vinyl with rubberized floors suit the machine. Opt for the Bang & Olufsen 10-speaker sound system, subwoofer included. Cue the sand.
Ford Bronco Raptor from $83,580
Audi Q8 Sportback e-tron Launch Edition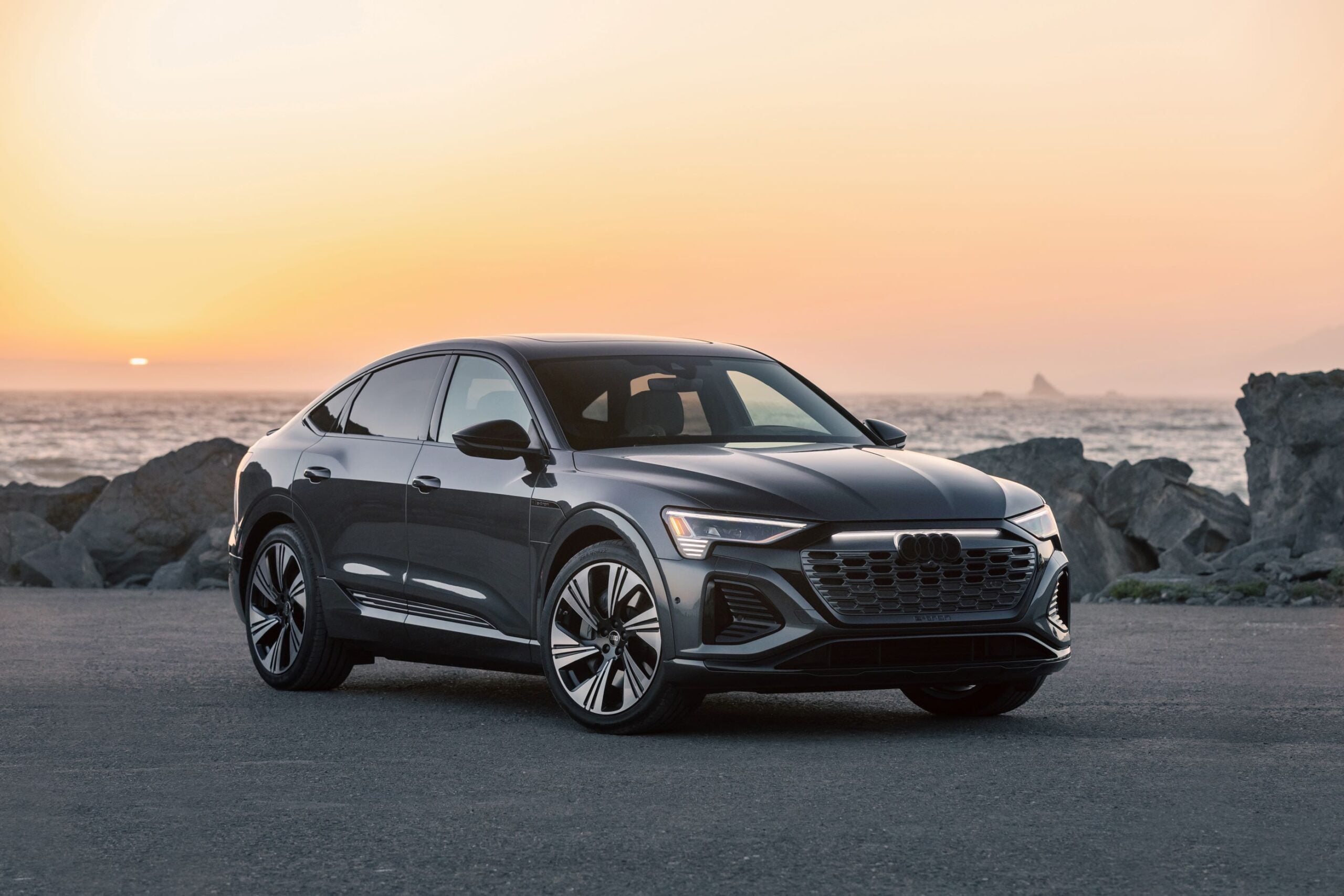 Clever. The single word that describes Audi's further foray into electric vehicles. One of five fully electric models, Q8 Sportback e-tron takes a recognizable silhouette, the e-tron, and an established nameplate, the (gas-powered) Q8. From a consumer perspective, the seamless transition already exists because this vehicle is, above all, a known entity. A familiar name. Recognizable look. Different SUV. Converting from gas powered to electric is less daunting when it feels familiar.
Q8 e-tron retains the previous model's headlights but introduces a new grille, larger, lower air intakes and wheel spoilers, which reduce drag by forcing air around the tires. In the shade of California's old-growth redwood pines, the new Audi logo loses its three dimensions in favor of a sleeker flat gray or white colored version. Debuting on this vehicle but rolling out Audi-wide, model details are laser-etched on the B-pillars.
Audi's engineers cleverly reconstructed the battery; instead of winding the prismatic cells they stacked them, creating a better geometric use of space capable of higher power charging. The flex comes in Audi's ability to maintain the battery's original dimensions. (It's the equivalent of adding more horsepower while keeping the same size engine.) At 114 kWh maximum range, that's an EPA-estimated 296 miles. All the better to weave through northern California's wine region.
Rather than forcing extraneous torque, a motor on the rear axle and a second in the front (for the Quattro all-wheel drive) provides 402 horsepower. Another point of smooth transition: there's no one pedal regenerative braking. The fusion of physical and regenerative braking is driver-initiated via the steering wheel paddles.  
As automobile manufacturers aim to transition the world to electric, Audi continues to provide a sensible playbook.
Audi Q8 Sportback e-tron Launch Edition from $91,950
Top supercars
Lamborghini Huracán Sterrato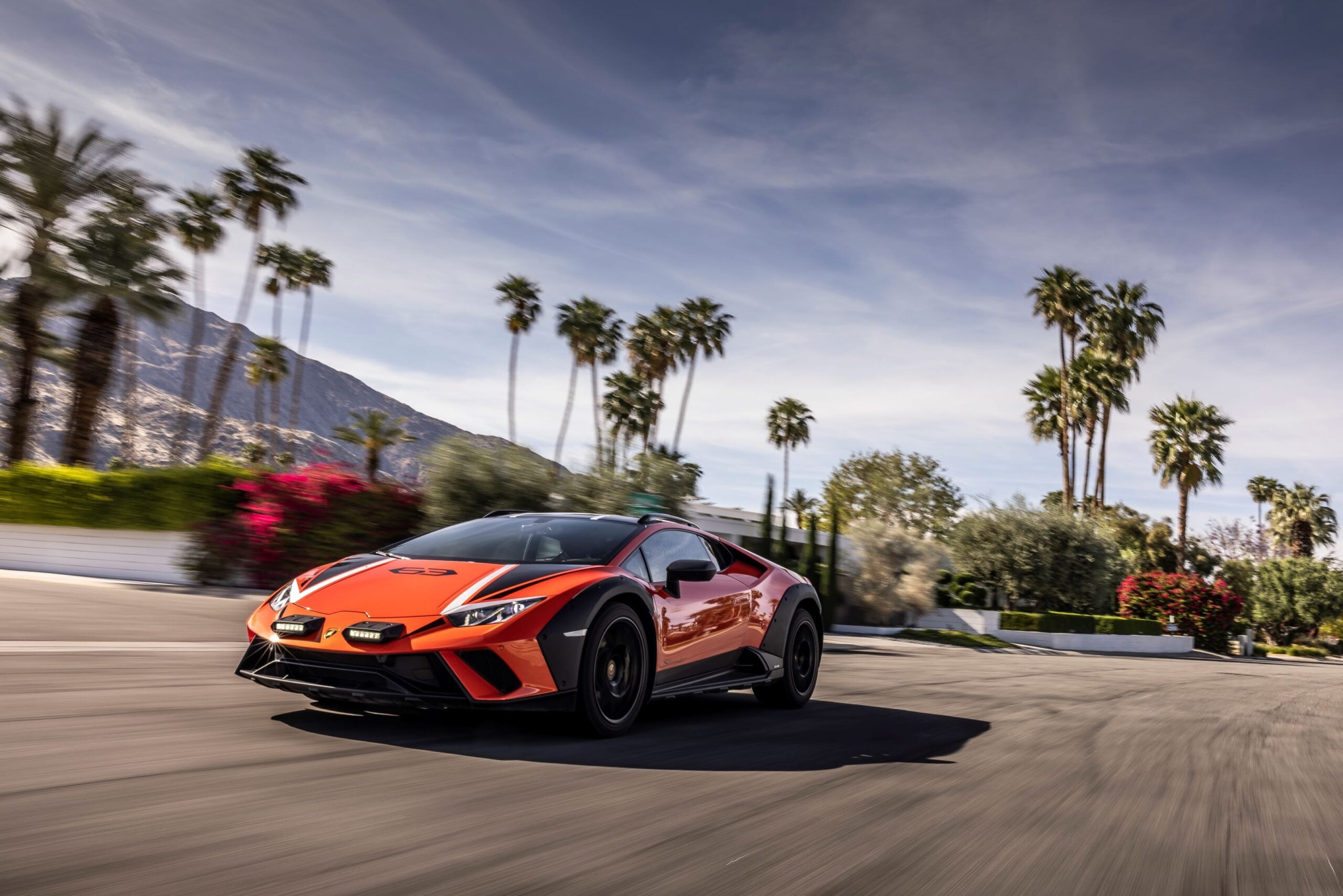 Tractor builder Ferruccio Lamborghini founded his namesake car company with a mission to show Enzo Ferrari how sportscars should be built. Sixty years later, Huracán Sterrato — a supercar turned super Baja-style buggy — arguably transports that sentiment into the present day.
A nod to Huracán after the close of its nine-year lifecycle, there's no pursuit of superlatives with Sterrato, but rather a distinct 'because-we-could' attitude. A focus on fun from a set of supremely talented supercar engineers.
Sterrato's ride height is 1.73-inches higher than a standard Huracán (eliminating the inevitable supercar pothole and driveway scraping anxieties), and features custom 19-inch Bridgestone Dueler all-terrain AT002 tall-sidewall, run-flat tires. Translated, the rubber is rated for speeds up to 168 mph, and a spare is unnecessary (excellent, because there's not exactly space for one). Bonus: The roof rails can hold up to 88 lbs. Perfect for surfboards, or skis perhaps. Or whatever overlanding paraphernalia one could desire.
Designers pragmatically sealed off the side-mounted air intakes and replaced them with a single roof-mounted scoop — the location least likely to devour dirt and debris. That meant detuning the mid-mounted 5.2-liter V10 from 630 hp to 602 hp.
The shark nose, shortened and heightened for an improved approach angle, makes sense, but the decision to keep the fragile carbon-ceramic brakes remains the head-scratcher. Find some sand and engage Rally mode. Or send it on the suburban streets, finally unafraid of bottoming out. 
Lamborghini Huracán Sterrato from $273,177
McLaren 750S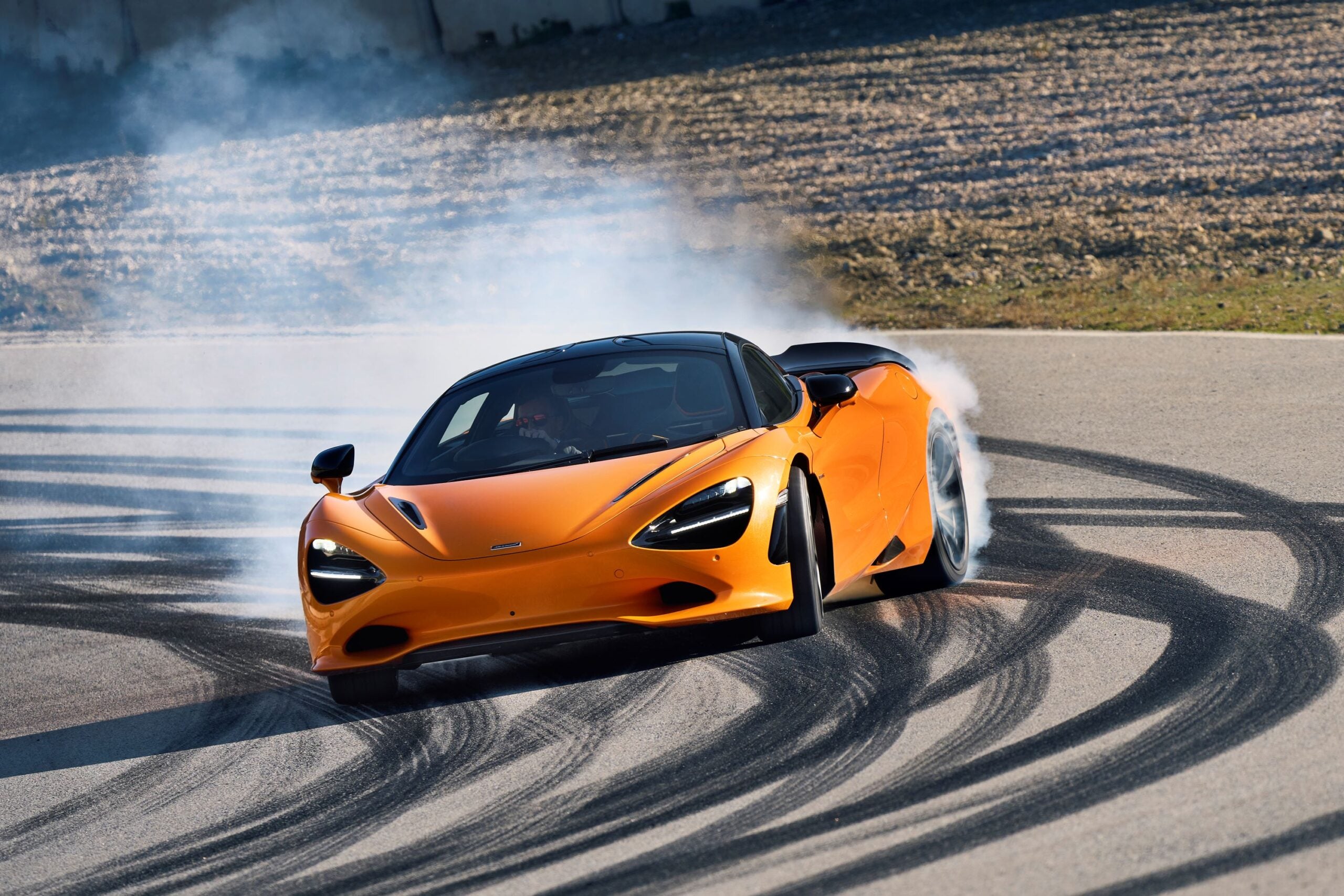 As is the modus operandi behind McLaren, the pursuit for more power and less weight continues. McLaren's 750S delivers the aforementioned objectives via a gently redesigned version of its 720S. Roughly 30% of 750S is new or updated, including a twin-turbocharged 4.0-liter V8 engine which now yields 740 hp as well as a seven-speed transmission with revised ratios that optimize acceleration.
Also new: carbon fiber racing seats, improved vehicle lift system, extended front splitter, forged wheels, and the ability to have the region around the headlights matched to the body color, or outfitted in carbon fiber. A mesh cover, similar to the 765LT, spans the rear deck. The interior borrows from McLaren's Artura, with the powertrain and handling buttons located on the sides of the instrument panel. There's new front and rear bumpers too. That McLaren feeling though — low and lean but strong and steadfast — remains.
While the racing team turns 60 this year, the vehicle production arm is roughly half that age. In that time, the company has created a perspicuous identity. Both revolutionary and evolutionary, McLaren clearly continues to balance the two. The former in the form of the company's previous unveiling, the hybridized Artura, the latter by way of 750S.
McLaren 750S from $324,000
Top sedans
Lucid Air Grand Touring Performance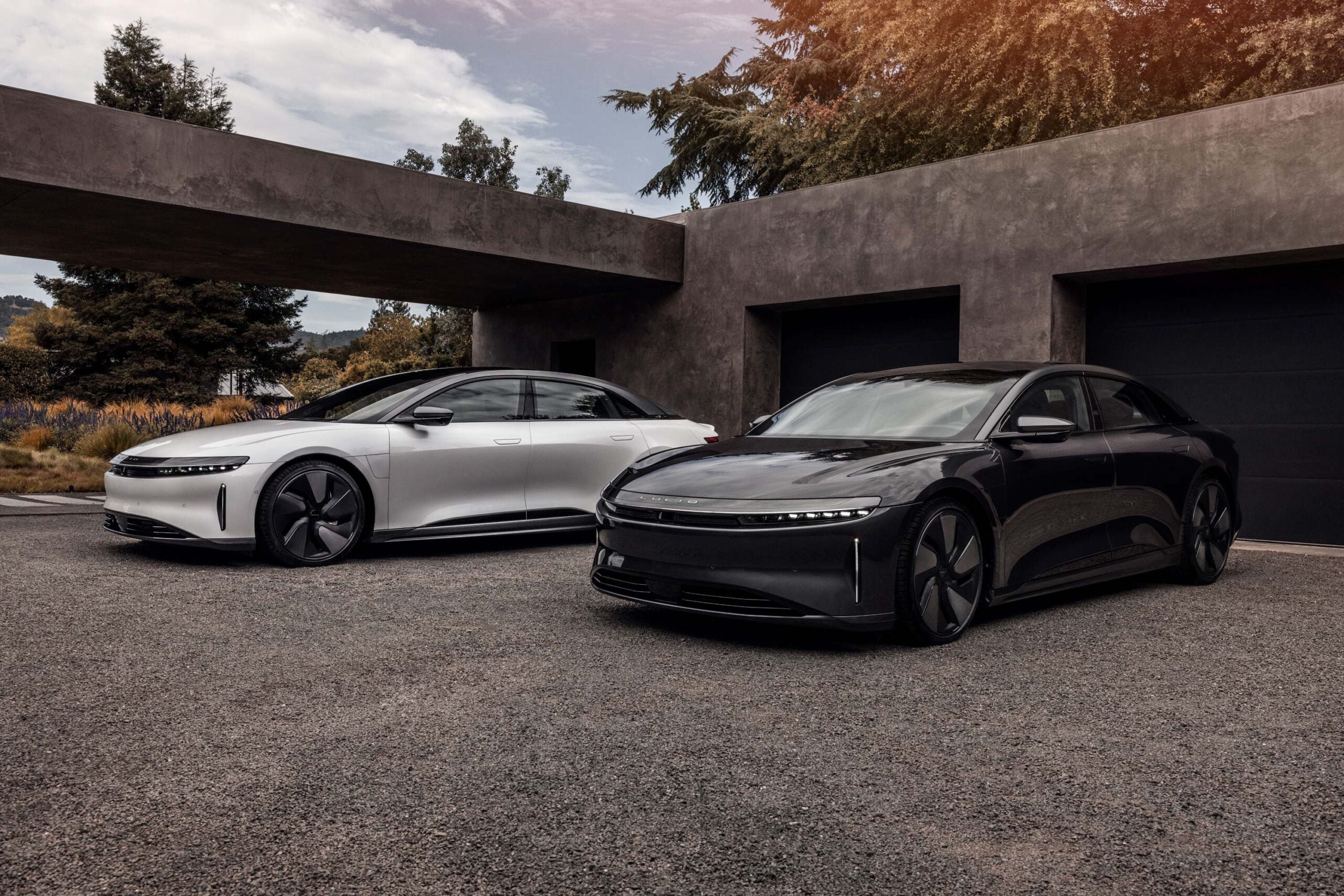 Part of paving the way is taking the rocks, pebbles, and gravel in stride. The creator of the first electric vehicle capable of driving over 500 miles on a single charge, Air Grand Touring, Lucid has already encountered a fair bit of debris. Delayed and paired down production led to a selloff last year as well as a stock offering in June, both from Saudi Arabia's Public Investment Fund, which owns more than 60% of Lucid Motors.
Following the money is interesting, but what it leads to is a luxury sedan that could potentially redefine vehicle aerodynamics, both inside and out. According to the brand, "Lucid Air is now the world's most aerodynamic production vehicle, with a landmark 0.197 coefficient of drag." For the Grand Touring Performance edition, one of four Air models, that translates to a dual-motor, all-wheel drive sedan boasting 1,050 hp with the ability to fast charge up to 300 miles in 22 minutes.
The optional glass-canopy roof creates an uninterrupted line from the windshield to the roof. Sun visors floating amid glass; windshield header be gone! Although interiors have been referred to colloquially as greenhouses for years, the Grand Touring Performance actually feels like one. The 20-way massaging seats and Dolby Atmos enhanced spatial sound system is a bit like icing on a rather airy cake.
Lucid Air Grand Touring Performance from $138,000
Mercedes-AMG S 63 E Performance Edition 1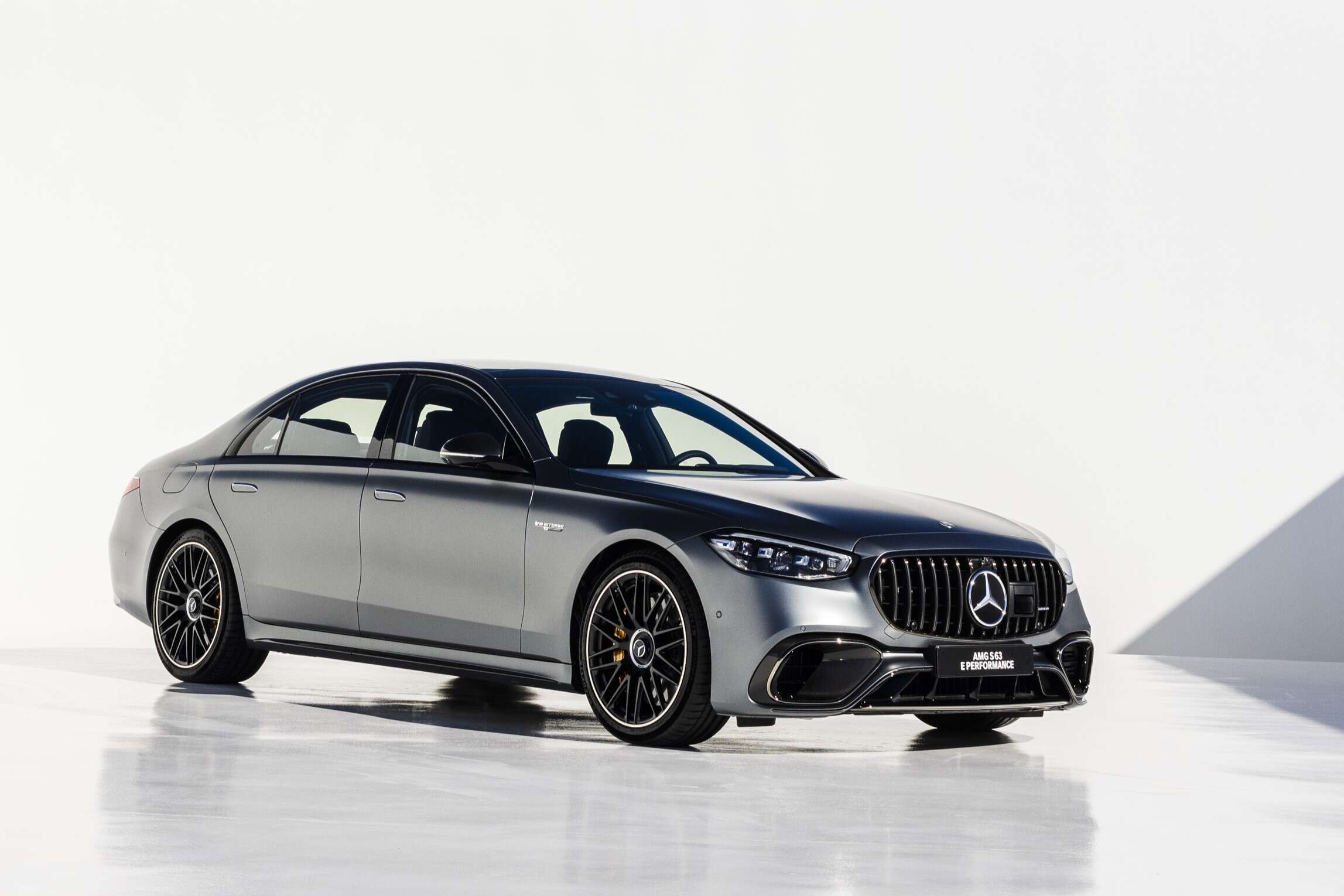 There's always been a particular feeling when sliding into an S-Class. Bestriding two jobs, being engaging to drive and to be driven in, Mercedes-AMG S 63 E Performance continues the dual service lineage.
As one of the luxury car brands leading the electrification charge, Mercedes-Benz continues to be unafraid of experimentation. Under the hood, a handcrafted AMG 4.0-liter V8 bi-turbo engine remains up front, while a 188 hp electric motor and high performance battery sit at the rear axle. At 791 hp, Mercedes-Benz states that this car is the most powerful S-Class to date.
In true brand style, the company also notes that "the focus of the powertrain is less on electric range and more on best-in-class performance… The development of the lithium-ion energy storage system is inspired by technologies that have proven themselves in the Mercedes-AMG Petronas F1 Team's Formula 1 hybrid race cars."
Edition 1, a limited launch version of the Mercedes-AMG S 63 E Performance, showcases a specific paint color, Manufaktur alpine gray uni, as well as AMG's exterior night package, which darkens all of the exterior chrome elements. Behind the 21-inch cross-spoke forged wheels are red brake calipers, while inside black Nappa leather is contrasted with red stitching.
Mercedes-AMG S 63 E Performance Edition 1 from $227,000
Top Coupés
Rolls-Royce Spectre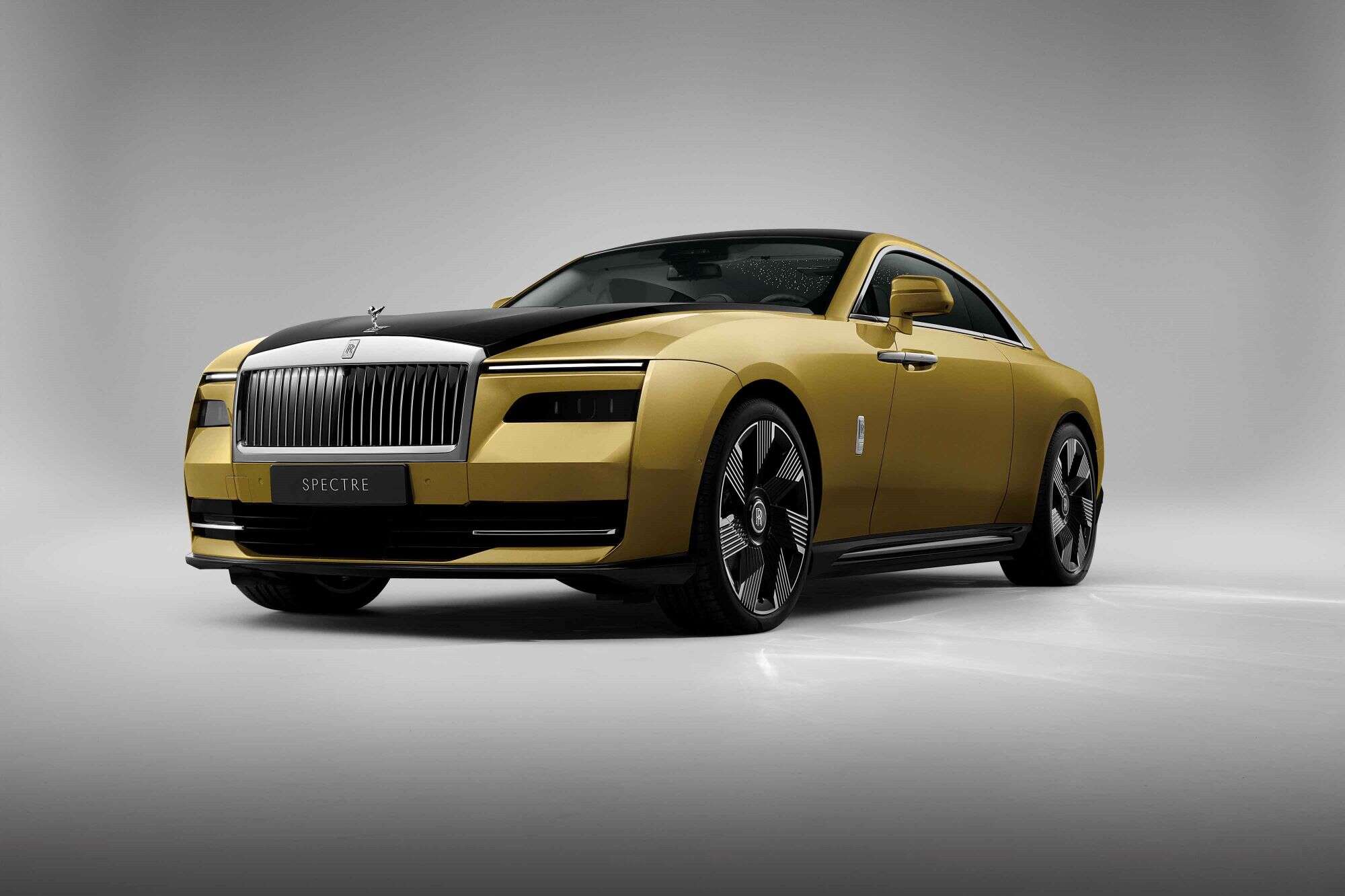 It hath arrived: Spectre, Rolls-Royce's electric super coupé and successor to Phantom coupé, extends 260 miles of range and 577 hp. To replace the beloved V12's, the coachbuilders co-developed motors and battery with parent company BMW AG, but as is tradition, spent several months more refining it to Rolls-Royce standards.
The result is a 0-60 mph in 4.4 seconds with a top speed of 155 mph. A nearly 18-ft-long all-aluminum body contains a new interior space. The shifted back bulkhead and low seating experience are a result of the relocated floor. Located halfway between the sills (rather than directly on top or below them), the floor creates an aerodynamic channel for the battery and an uninterrupted underfloor. Considering the coupé weighs in at 6,558  lbs (nearly 1,000 lbs more than any Range Rover), every aerodynamic advantage helps.
Designed to reduce drag, the widest grille ever placed in a Rolls-Royce belongs to Spectre. Unlike other EVs, there's no front trunk, but four-wheel steering makes the car surprisingly nimble. Conveniently, when the driver depresses the brake, an electric motor closes the five-ft-long doors.
Rolls-Royce opted to forgo touch screens, but there are digital instruments behind the wheel for the first time – albeit ones that parrot the brand's analog version. Rest assured, the door umbrellas remain, as does the thick lambswool carpeting and starlight headliner. In fact, the thousands of LED pins delightfully extend the twinkling to the doors of the car.
Rolls-Royce Spectre from $420,000
Top convertibles
Jaguar F-Type R 75 Convertible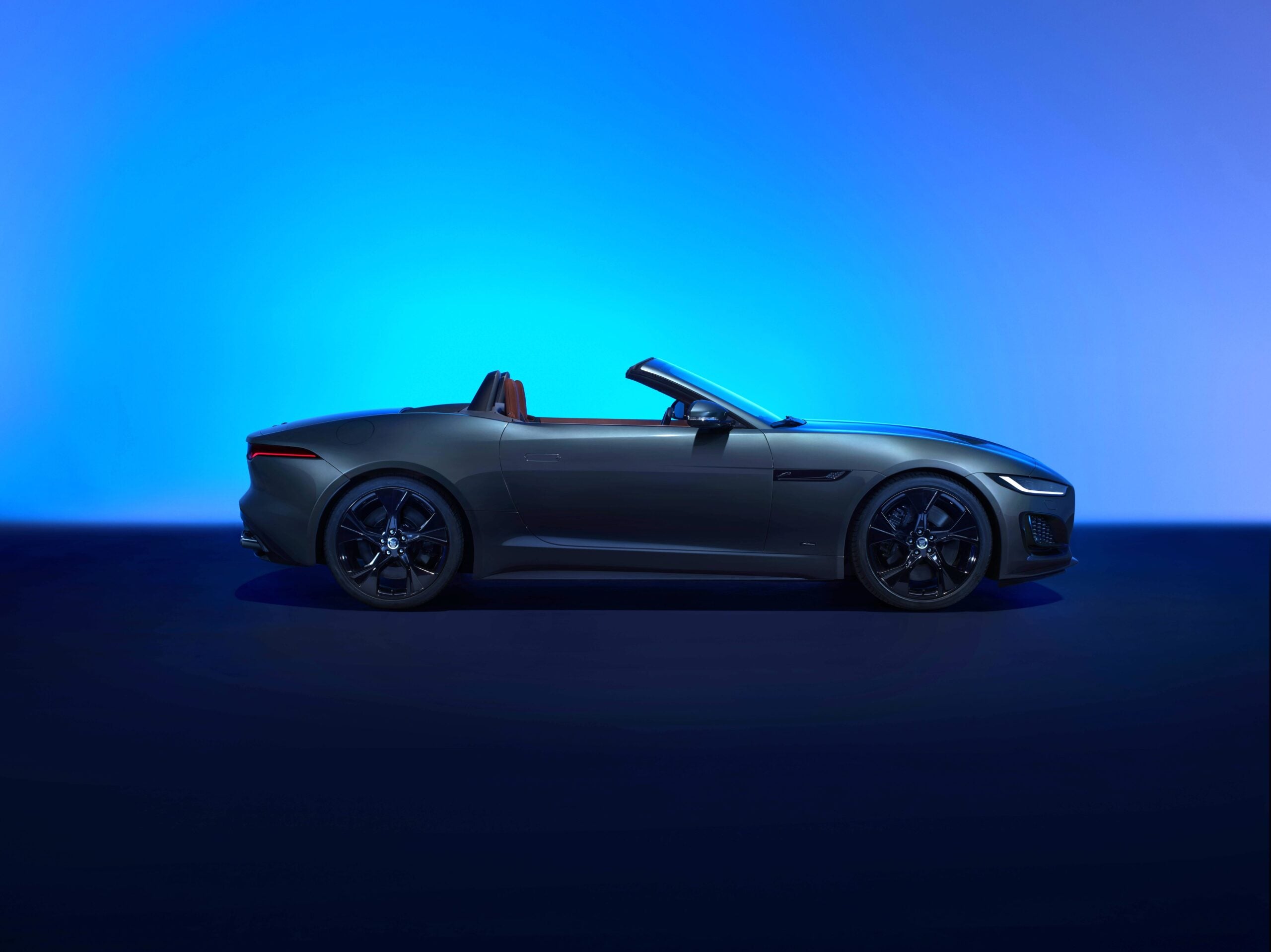 From a brusque later to the soulful adieu, an optimistic be seeing you to a straightforward goodbye, Jaguar tapped into all the farewells to present its final F-Type. One of three derivatives offered in both a coupé and convertible, F-Type R 75 marks not only the final model year of the F-Type (since its debut in 2013), but 75 years of Jaguar sports cars.
With a top speed of 186 mph and a 5.0-liter supercharged V8 producing 575 hp, the front-engine two-seater remains powerful and responsive but also playful. So often in the hunt for fast, exuberance is overlooked. Weaving through the hairpins of Monaco and down the Côte d'Azur, plenty of folks accustomed to seeing cars with hyper and super in their titles gave the F-Type a smile and a nod. Think adoration and celebration, not inauguration.    
As is true to its British heritage, discreet alterations include 20-inch wheels and changes in the grille badge, as well as the unique paint color Giola Green metallic. Heated and cooling options on the slimline seats allow for the top to remain down despite the exterior temperature, and all-wheel drive means this car needn't be restricted to purely sunny days.

F-Type R 75 Convertible from $77,900
Top GTs
Aston Martin DB12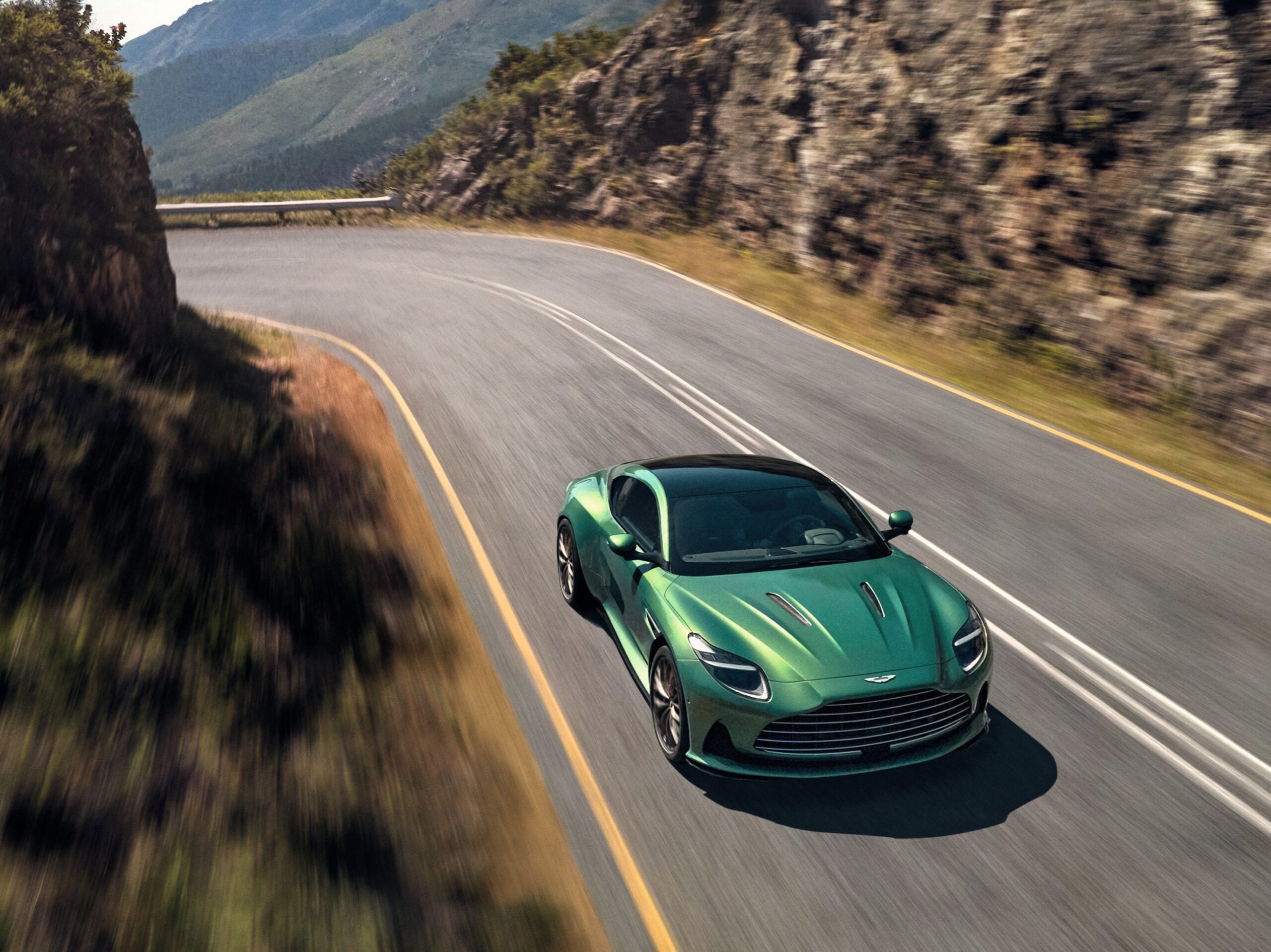 For the better part of its recent history, Aston Martin has been indubitably linked with James Bond. Leaning into that swanky affiliation, the brand announced the arrival of its newest automobile, DB12, at a black tie event during the Cannes Film Festival.
Fictional reality aside, it's a locale that certainly would have hosted both celebrated spy and his vehicle de rigueur. Image matters. (Which is why the very savvy investor Lawrence Stroll negotiated for Aston Martin to split time with Mercedes-Benz as the pace car throughout the Formula One season.)
A noted marketing move in the crowded touring space, Aston Martin coined the phrase 'super tourer' (as opposed to grand tourer) to describe the twin-turbo, 4.0-liter V8 pushing 671 hp. The redesigned taut nose marks the first Aston Martin to wear the brand's revised logo. An all-new suspension system rides on new tires. Michelin Pilot Sport 5 S tires were made to Aston Martin's precise specification.
After much ado, the thoroughly updated interior includes its first in-house infotainment system capable of accepting over-the-air software updates. The accompanying DB12 smartphone app further signals the new era of Aston Martin sports cars. Certainly a statement as Aston Martin celebrates 75 years of the DB line as well as its 110th anniversary.
Aston Martin DB12 from $245,000
Top muscle cars
Dodge Challenger SRT Demon 170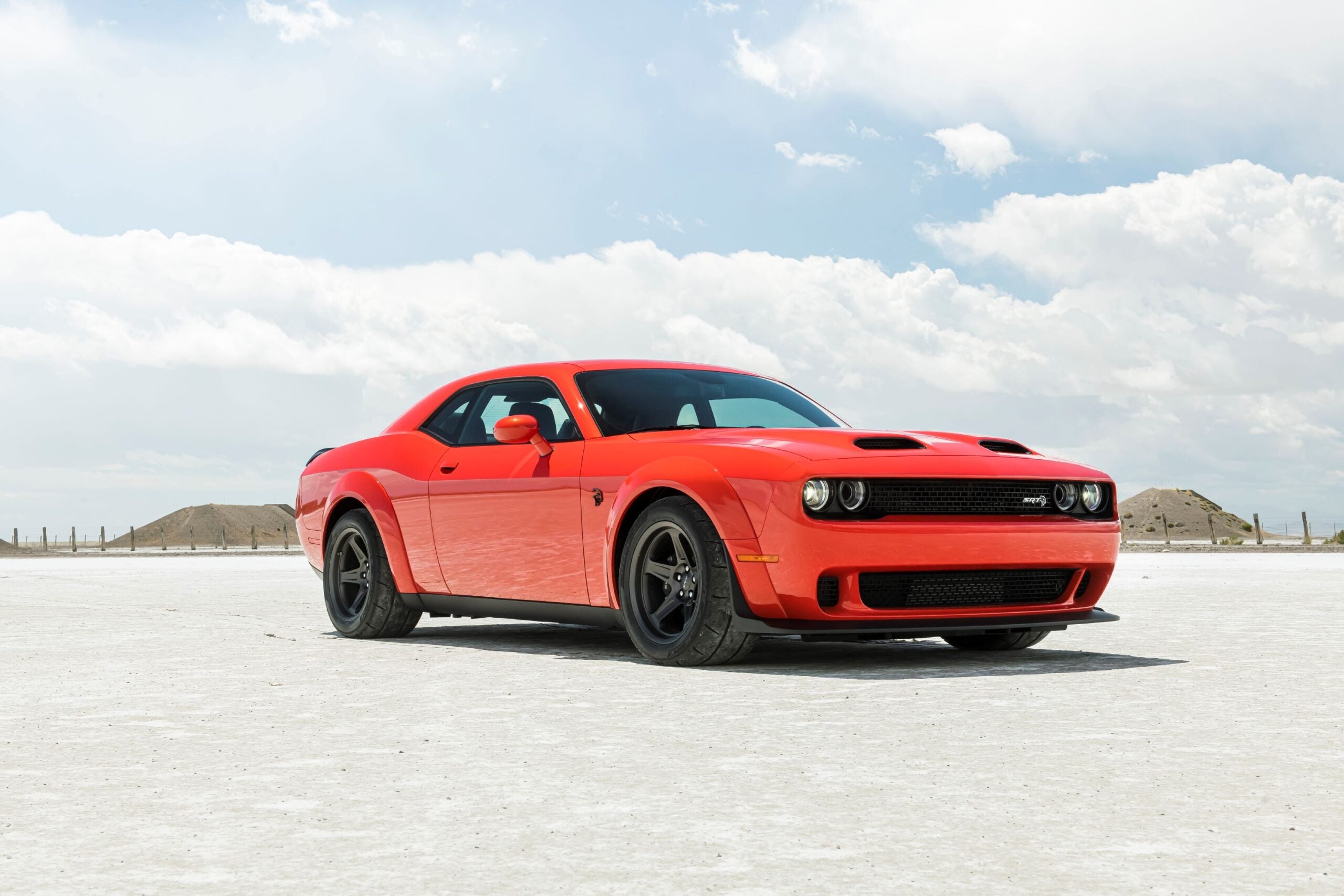 To salute the dusk of the fuel burning era, Dodge released the fastest accelerating and quickest street legal production car to date, Challenger SRT Demon 170. At full throttle, the 1,025 hp, 6.2-liter supercharged HEMI V8 can drain a tank of 170-proof E85 ethanol in 5.75 minutes.
Inside the fuel tank, a sensor assesses the alcohol content of the fuel (should the driver use a different type of gasoline) and consequently adjusts the vehicle's performance capabilities. The eight-speed, rear-wheel drive muscle car heralds a decisive moment in automobile history; a willingness for manufacturers to push their own limits, a commendable skill now required to navigate the industry-wide entrée into electric.
On a prepared surface with the engine literally firing on all pistons, Challenger SRT Demon 170 can achieve a 0-60 mph in 1.66 seconds. It can sprint the quarter mile in 8.9 seconds at 151 mph. For context: to achieve those stats, the driver will face roughly 2 gs against the seat — which is what a Formula 1 driver experiences when accelerating from a standing start. Hence why Dodge requires buyers to sign a notarized disclaimer stating they understand the car's unique characteristics and note that the car can't be driven in the cold or rain.
Certified by the National Hot Rod Association as the first factory production car to run the quarter mile in under nine seconds, the association subsequently banned Challenger SRT Demon 170 from its events because it doesn't have a roll cage or parachute. (Buyers can purchase a factory installed parachute mounting system. Parachute isn't included).
While Dodge declared a fully electric muscle car will be a part of its future, this vehicle shuts the book on the Challenger's 15-year production run.
Dodge Challenger SRT Demon 170 from $96,666